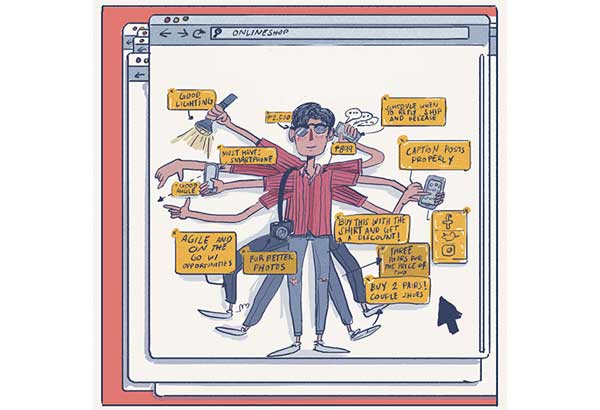 MANILA, Philippines — Annoying as some might think she is, Sophia Amoruso is kind of a marketing genius. If you've read her book Girlboss or watched the Netflix series based on it, you'll know that she has an eye for good fashion finds and she knows how to sell them. While not everyone has extra time to scour countless ukay-ukays for vintage Chanel pumps in a sea of knock-off Gucci shoes, you can raid your own closet for things that you don't use anymore. Just think about that old prom dress and hula skirt you wore at a Halloween party once that never saw the light of day ever again. You can extend the lifespan of that item by selling it, and you get extra income and closet space too. After all, it's never too late to adapt that KonMari lifestyle.
Carousell, a mobile classified marketplace, is the perfect place to post items you want to sell. Developed in Singapore in 2012, Carousell makes transactions between buyers and sellers easier. You can take product photos, categorize your listings and chat with potential customers in less than a minute. Keeping track of the offers you get per item is also easier since bidding happens in the inbox. You can explore different groups and curated collections if you're looking for a particular item.
To help you build your blossoming online shop dreams, here are some tips to get you going.
Define your tone and brand
At the beginning of Amoruso's Nasty Gal career, she already established what type of store she wanted to have, chaotic management and all. Don't worry; it's part of the charm. The same goes for your burgeoning online shop. Don't be afraid to curate and edit the items you will sell. Take advantage of the description box to create relationships and establish your brand's personality. You can be fun and sassy even though you're just selling a pair of old flip-flops. There's always a gap in the market for that.
Take decent photos
Your Carousell's shop front looks a lot like Instagram. Your items will be presented grid-style, so you better raise your photography game. One of the easier tricks is to find a signature background. Whether it's your wooden floor or a fur rug, consistency is key. This will make your future buyers focus on the product more. Investing in photo editing apps will also be useful. Check out VSCO and Afterlight if you have a bit of app store budget or Foodie if you want a free option. Pro tip: the brighter the photos, the more attractive it looks.
Determine your business hours
Signing up to the app is easy; it's the commitment part that's tricky. Just like any business, you need to plan your business hours. This way, your buyers will know when to expect a reply or else they will lose interest. Thankfully, Carousell works both on desktop and mobile so you can check it on the go. But if you're balancing your side hustle with school or work, determine what time you'll respond to inquiries, ship items, and post new products to sell.
Create promotions
When your store starts going slow, you can experiment with promotions. Some people hold one-day only discounts for their loyal customers. Carousell notifies your followers if their liked item's price changes. You can also relist some items as bundles if you feel like it. This can work for smaller items like makeup products or clothing pieces that can go as complete outfits. Don't forget to utilize your social media account for cross promotion.
* * *
You can download Carousell on the App Store or the Google Play Store.