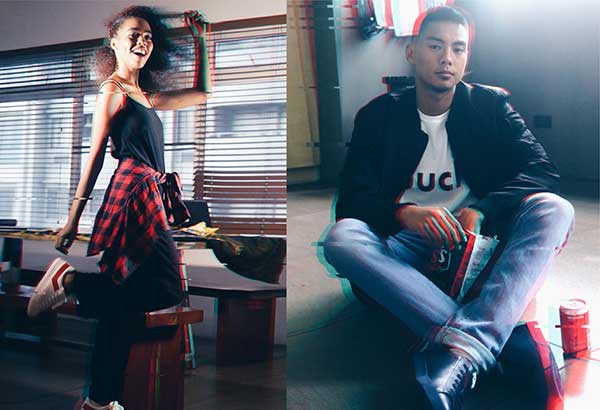 #TheNextUs: Global sneaker brand Pony lets young and passionate individuals like Chelsea Manalo and JJ Española make their voices heard.
CHECKOUT COUNTER: Kids of the new age
MANILA, Philippines — Heads up: Gen Z has arrived. This is the generation that's grown up with widespread internet access at their fingertips, which is to say that they're probably the most woke generation to date. Born generally in the mid '90s up to the mid 2000s, the first wave of these kids is starting to enter their early 20s. It's a generation on the verge of taking over the world, if you will, and they've already begun.
Global sneaker brand Pony (which stands for Product of New York, if you didn't already know) is definitely taking notice. Their new campaign #TheNextUs features eight up-and-coming personalities, right on the cusp of the surge of Gen Z individuals. These new kids on the block embody Pony's independent spirit and #LetsGetItOn attitude, and they're not taking no for an answer. Pony's #TheNextUs isn't just a campaign; it's a platform that lets young urbanites speak their minds, express themselves, and make their voices heard.
The first of the eight personalities is Waf Nawaf Al Hassawi, who is 21 from National University, and is one of the country's hottest up-and-coming DJs. Next up is JJ Española, 22, from the University of the Philippines (UP). JJ is one of the UAAP's rising basketball stars. Following them is Stephen Quizon, a 19-year-old student from UP who is a host and aspiring theater actor as well. There's also Joshua Beltran from the University of San Carlos Cebu (USC), a 19-year-old who is one of his school's best triathletes. Venice Slaughter is a 20-year-old medicine student and adventure seeker from Ateneo de Davao University. Up next is Chelsea Manalo, an 18-year-old who is fast becoming one of the faces to watch in the modeling scene. Sosy Orsini is an 18-year-old volleyball player poised to become one of the country's top players. And last but definitely not least is Angela Bueno, a 19-year-old also from USC. She is a young entrepreneur passionate about traveling and sharing these experiences with other people.
It's always a bittersweet feeling when a new generation takes over. You either can't help but try to teach them all you've learned, or just leave them be with a bitter taste in your mouth — hopefully it's the former. But either way, you gotta admit: it's always exciting to see what the next gen does.
* * *
To see more of #TheNextUs and #LetsGetItOn campaigns, visit facebook.com/PonyPH and follow them on Instagram and Twitter at @Pony_PH.