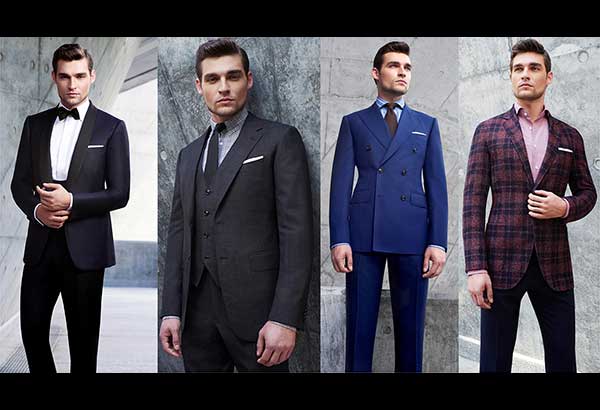 Modern tailoring for the modern gentleman
MANILA, Philippines — Between soft jackets, tapered suiting fits and the hallmarks of the right collar on a shirt, Hong Kong bespoke brand Ascot Chang re-contextualizes classic tailoring for contemporary taste. Ascot Chang has been creating classic bespoke shirts for the discerning customer since Mr. Chang opened his first shop in Hong Kong in 1953. To talk about the role of modern tailoring for the Instagram generation, YStyle sits down with Lincoln Chang and Justin Chang, general manager and deputy general manager of Ascot Chang respectively, at their gentleman's outpost at Rustan's Makati.
"We're dressing men who dress for themselves," says Justin Chang. "That's where modern tailoring is now." Both lobby for classic cuts for most men with just the slightest of seasonal updates — lean Italian-inspired suits but never too skinny; smart collars that stand up but are never restricting or too stiff; lapels that keep up with fashion but are never too trendy. Citing the deluge of internet trends and Instagram-only trends, the two tailoring enthusiasts champion timeless style as means of standing out. Veering away from the time when all were expected to blend in, Ascot Chang empowers men to feel confident and to stand out from the crowd with impeccable pieces tailored to fit with one's personal style.
"The customers have a much higher appreciation and knowledge of tailoring as compared to 10 years ago and that's all thanks to the internet," notes Lincoln Chan. Regardless of style preference, whether classic or contemporary men share the same desire for pieces with flawless fit and classical appeal. Enthusiasts appreciate a versatile wardrobe that lends a look of power and masculinity, not just for one specific season, but all year round.
Since 1953, Ascot Chang has been creating bespoke shirts and suits for discerning clients. Now, executives and entrepreneurs can build an impressive wardrobe with pieces that are tailored fit to their physiques and personality. Looking polished and put together in any situation or occasion is made much easier by the eponymous brand.
As to the needs of the global customer, specifically the style-conscious and brand-discerning gentlemen of Manila, Justin Chang notes an uptick in bespoke soft jackets. "We always look at where the directions for style and tailoring are going, and whatever it is the customer is interested in; (and) a lot of our clients have been requesting jackets that are a bit softer, less structure, more comfortable to wear, specifically for ease of travel and business endeavors."
This need to understand the client is a house code championed by Ascot Chang, the founder and master tailor, believing that clothing should complement the wearer's individual figure, lifestyle and tastes, while maintaining excellence in quality and design. "My customers bring their own style to the shirt," he once explained. "I just give the style substance."
Mr. Chang began mastering the craft of bespoke tailoring at 14, after leaving his small Chinese farming village to apprentice under a custom shirt maker in Shanghai, then home to some of the world's best tailors. He moved to Hong Kong 12 years later, with just around US$10 in his pocket, and the dream of starting his own custom shirt making company. He established a loyal following through his hard work and constant pursuit of excellence, allowing him to open his first Ascot Chang store on Kimberley Road in 1953. He soon opened three more stores in Hong Kong — at the Peninsula Hotel, the Regent Hotel and Princes Building, servicing thousands of devoted customers from across the globe.
Today, Ascot Chang has become a celebrated brand, known for its craftsmanship and keen eye for detail. "You could say we do things the old-fashioned way," says Justin Chang. "We pay attention to all the finer details."
The signatures of Ascot Chang include single-needle French seams, handpicked Australian Mother of Pearl buttons, and its 22 stitches per inch sewing technique, which ensures durability and style. Ascot Chang also offers an exclusive selection of over 4,500 of the world's finest fabrics, including designs by Alumo, Thomas Mason, LoroPiana, Albini and Monti. These are luxurious options for the sophisticated, self-assured customer.
For the man who demands the same Ascot Chang craftsmanship and style from head to toe, the line has expanded to include an assortment of high-quality pure silk ties, lush cashmere sweaters in striking colors, elegant scarves, braces, socks, cufflinks and more. Shirts and suits are made in business, casual or formal styles, and all shirts, suits, robes, boxer shorts and handkerchiefs are available either ready or custom-made with the option of customized monogramming.
Ascot Chang allows men around the world to look effortlessly refined, no matter the time of day, no matter the occasion; no matter what's hot on Hypebeast; no matter what's trending on Instagram. And that is what modern #menswear is all about.
* * *
Ascot Chang is available at Rustan's Makati, Shangri-La, Cebu and Shangri-La Makati Hotel.