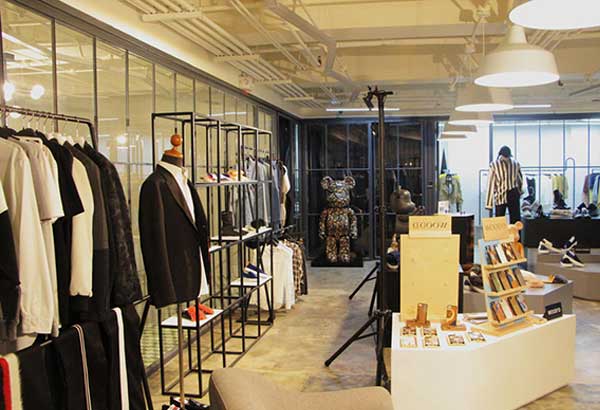 Distinqt offers full pre-fall lines at their Salcedo Village pop-up before Distinqt Black opens in October at Shangri-La at The Fort.
MANILA, Philippines — There's a fashion rebellion underway: against the monopoly of high-end fashion, against the disposability of fast fashion. The commoditization of creativity has become the price to pay. In a sweet spot in the middle of the market spectrum, contemporary fashion bridges the gap.
In Manila, it has found its home in multi-brand concept store Distinqt. "Distinqt is a space where the young, creative, and well-traveled professional, one who's always online and is up to date with the trends, can find what they need to express themselves through fashion and their lifestyle," says Brand Gateway brand manager Andrew Naval.
Contemporary luxury signatures are playful touches in classic pieces epitomized by the Edmos, Enfold, Joshua Sanders, may mOma, No21, Schield, SJYP, TIBI and Walk of Shame, whose pre-fall offerings are now at Distinqt's Salcedo Village pop-up.
"People might see No21 in other stores, but we carry the full line," Naval points out.
From the Philippine purveyor of niche labels Paul Shark and Linda Farrow, there will be two Distinqts. Distinqt Black opens in October at Shangri-La The Fort with fall/winter drops. The 200-square-meter, high-ceilinged space is differentiated with its black marble floor while its Ortigas counterpart, Distinqt White, will carry a wider (and more approachable) range in the new Podium wing towards the end of the year.
"Our store follows the four seasons (pre-fall, fall/winter, resortwear and spring/summer). For major brands, we'll do the capsule. Our store is highly seasonal," Naval says.
"We will also bring new brands every season. We try to curate niche brands not available in the Philippines," he adds. Distinqt currently has their eye on LA-based social media star Cult Gaia and their bamboo bags.
* * *
Distinqt pop-up is located on the 4th floor of the PCCI Building, L.P. Leviste Street, Salcedo Village, Makati open daily from 11 a.m. to 6 p.m. until Oct. 15.