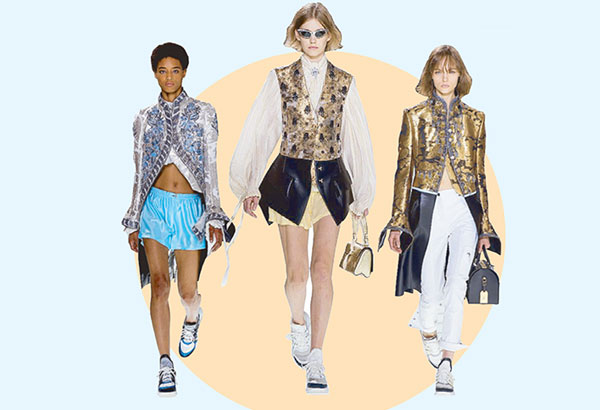 YSTYLE TREND REPORT: #PFW S/S 2018
EMPEROR'S NEW CLOTHES
Louis Vuitton
Some people believe time exists as a flat circle, and as per Louis Vuitton's creative director Nicolas Ghesquière, the clothes you wear could, too. The house explores anachronism for spring/summer 2018: a genius lineup of baroque-detailed frock coats in lush metallic brocades worn over embroidered silks — the excess pared down with silk knickers and a pair of sportif everyday sneakers you could see in the street. Or, as Ghesquière shared, after the show, "How some pieces are considered as costume and how it was interesting to explore the way to incorporate them again in an urban wardrobe that I love." The presentation marks a return for the designer's penchant for high-concept collections that defined his seasoned tenure at Balenciaga.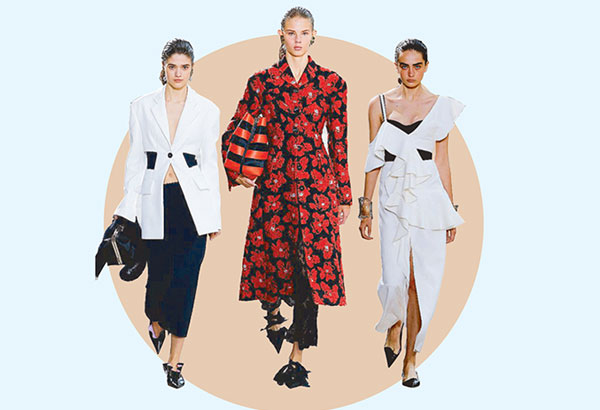 PARIS, JE T'AIME
Proenza Schouler
The second biggest story for erstwhile New York-based design duo Jack McCollough and Lazaro Hernandez was their move from showing at #NFYW to a spot during the French couture calendar. The first? The arrival of their Parisian craft-inflected collection for spring/summer 2018. The Proenza Schouler customer's expectations were met, and in the course of the show, elevated — taking the house signatures of asymmetric hems, corseted tailoring; punctuating each of them with feathers, fringe and artfully arranged cut-outs to form a soft sculpted bodice. An obvious highlight is a blush peplum sheathe detailed with exquisite embroidery that recalls craftsmanship worthy of some of the most storied French houses. Proenza Schouler meets Maison Lesage maybe? Sounds like a dream.
SCREEN SAVER
Balenciaga
At Balenciaga, creative director (and fashion zeitgeist leader of-the-moment) Demna Gvasalia moves away from his archival approach to the storied French house — for spring/summer 2018, the mood is entirely less Cristóbal and decidedly more Demna. Full stop. "This is now what I wanted to be about — things that I like and things that I value," the designer noted backstage. "Street and casual elements, and you know, things that everybody kind of associates with my work, more or less." The collection offered Balenciaga 3.0 florals from ladylike pencil skirts to silky frocks; smart tartans paired with outsized shirting. Bad taste meets good taste reconfigured in compelling iterations sits at the heart of Demna's Balenciaga: this season's dollar note-printed motifs and chunky Crocs footwear? Par for the course.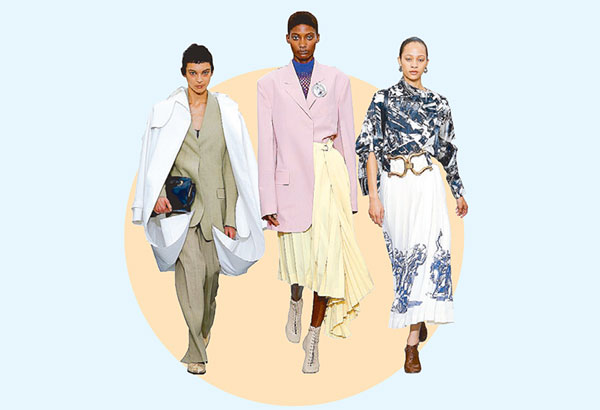 THE PROFESSIONAL
Céline
Céline spring/summer 2018 was a rigorous display of all the things Phoebe Philo built for the house: simply put, these are clothes for women that get it. "It," as defined by the "professional class of women" who rely on the brand exclusively, as succinctly put by Vogue.com, is the improbable yet compellingly wearable creations Philo puts out season after season. For spring, observe: trenchcoats, looped up at the shoulders to create an enveloping cape of sorts; leather-piped tabard dresses, soft-sculpted belted jackets and much more. It's still signature Céline, truest to form, after all these years.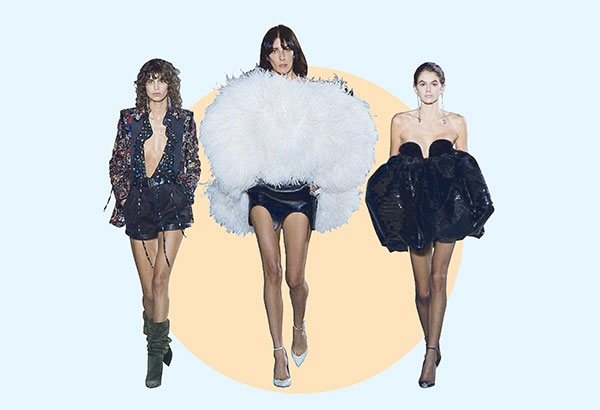 LA TOUR
Saint Laurent
The setup: Saint Laurent staged a larger-than-life open-air runway show along the fountains of the Trocadero — with the Eiffel Tower in full view of the catwalk. Anthony Vaccarello offered a journey through the house archives. "I want to tell the story of Saint Laurent, of Paris — nothing more deeply than that," said the designer. For their spring/summer 2018 lineup, Vaccarello started with billowing silk blouses and embellished mini frocks; moved to metallic second skin dresses and ostrich feather confections; and culminated in the atelier tradition of outsize silhouettes and bold shapes.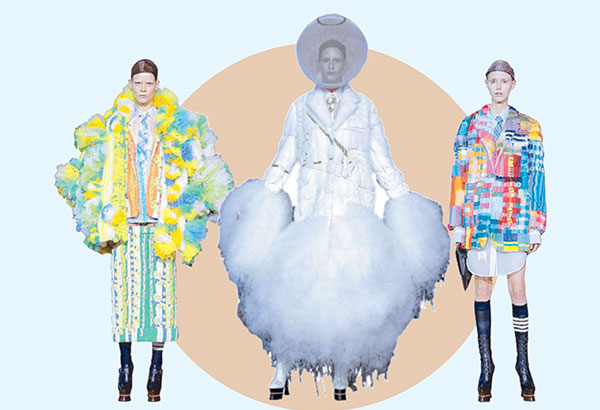 SHEER FANTASY
Thom Browne
A collection confected almost entirely in tulle? Leave it to Thom Browne to take it as a personal creative challenge. During a preview, the designer shared: "When I thought of doing my first show here, I wanted to celebrate what, in my mind, Paris fashion is all about — the craftsmanship of couture." That in mind, Thom Browne went for his usual surface treatment of colorful madras prints, seersuckers, plaids and checks — but took things a thousand steps further by developing all of his fabrications in tulle. Pure magic.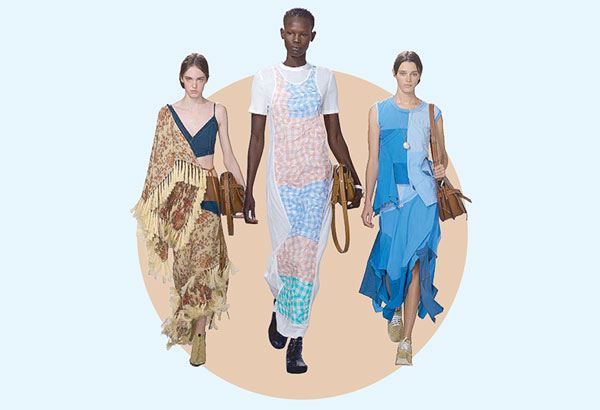 CULT CONCEPT
Loewe
Jonathan Anderson's exquisite craft and sophistication at Loewe is an expectation. But for spring/summer 2018, a rare and breathtaking ease for the clothes was offered as well. Master of pastiche: he assembled an array of motifs and treatments, Liberty floral prints from London and paisely from India, handwoven fabrics and patchwork quilts among them. "I wanted it to feel like people, volume, so big noise and small noise. The idea of calmness, like something which is most sensual, kind of daywear." Shares Anderson, the overal effect was a collection of wrought-out conceptual designs in the most approachable of calico textiles and casual shapes. The cherry on top? A crazy curly-toe sneakers, a glorified elf shoe. "There's no sense to them," says Anderson, "but they make you laugh!"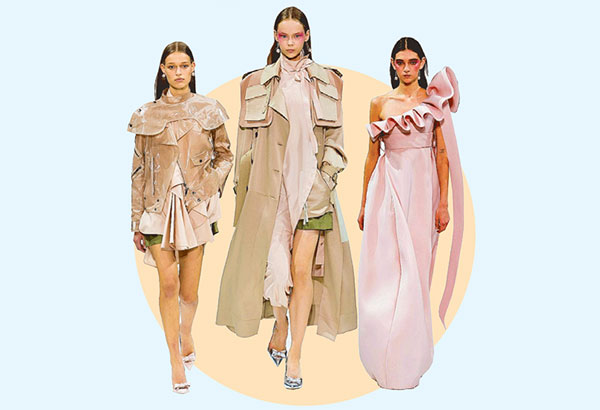 LIFE IN PLASTIC
Valentino
Valentino's Pierpaolo Piccioli put optimism on the runway for spring/summer 2018: if a clear plastic anorak dotted with shimmering sequins doesn't read as capital F fashion for you, we don't know what will. Partly inspired by the historic Apollo 11 moon landing, the designer offered more than just technical space clothes — it was daywear at its most luxurious, oftentimes at its most Valentino. Cases in point: sparkly sportif was on the menu with technical sheathes and functional jackets, rounded out by a sweep of silk coats and dreamy gowns.