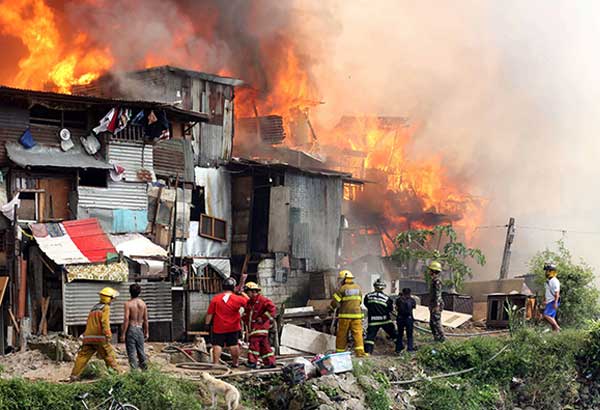 Firefighters work to put out a fire that razed shanties along a waterway in Barangay Talayan, Quezon City yesterday as residents look on. BOY SANTOS
QC fire: 1 dead, 700 families homeless
MANILA, Philippines - A 66-year-old man died while 700 families were left homeless after a fire razed a residential area in Quezon City yesterday morning.
Officials identified the fatality as Elpidio dela Cruz.
The fire destroyed 300 shanties along Calamba Extension in Barangay Talayan.
Fire Inspector Rosendo Cabillan, head of the arson investigation section, said the blaze started at the two-story house of Mariel Saguban at around 9 a.m.
The fire reached fifth alarm and destroyed more than P2.4 million worth of property before it was put out just before 1 p.m.
The cause of the blaze is yet to be determined.