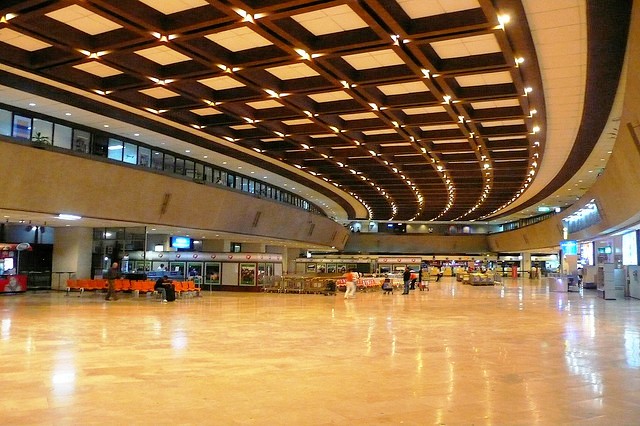 After four ramp workers were arrested for stealing the jewelry of a Turkish official's wife, the Manila International Airport Authority said yesterday it will install full-body scanners at airport ramp areas to deter luggage theft. Curoninja/CC BY-NC
Full-body scanners eyed vs NAIA thieves
Rudy Santos
(The Philippine Star) - August 12, 2017 - 4:00pm
MANILA, Philippines - After four ramp workers were arrested for stealing the jewelry of a Turkish official's wife, the Manila International Airport Authority (MIAA) said yesterday it will install full-body scanners at airport ramp areas to deter luggage theft.
The MIAA will also conduct surveillance on all ramp workers, especially those assigned to baggage handling areas at the Ninoy Aquino International Airport (NAIA) terminals.
In a meeting on Friday afternoon, MIAA general manager Ed Monreal ordered airline officials to submit monthly reports on pilferage, intensify the guarding of luggage at departure and arrival sections and consistently implement the frisking of all ramp personnel.
He also reminded airline officials to strictly adhere to the policy barring pockets, jewelry and watches for ramp workers.
Monreal ordered ground handlers and security providers to conduct background checks on workers they will employ.
"I expect everybody's full cooperation. I strongly urge that you come up with policies and procedures to clean your ranks so we can achieve order in our airport," he told airline officials.
"We have always been consultative with them, they know that, but the recent incident is the straw that broke the camel's back," he said.
The jewelry stolen from the luggage of Turkish Foreign Minister Mevlut Cavusoglu's wife was found in the locker of one of the four arrested baggage loaders at NAIA Terminal 1. They are employed by Miascor Ground Handling Corp.
Monreal warned that the firms that will not cooperate face revocation of their "privilege to operate in NAIA or termination of accreditation with us."
Repurposed
Monreal said NAIA already has 14 brand new full-body scanners bought by the previous MIAA administration but still not used since the Office of Transportation Security claimed they were "defective."
The supplier, which he did not name, denied the allegation.
The scanners were set up at the departure areas in 2015 over fears of terrorist attacks. The scanners were supposed to detect bomb parts smuggled by passengers.
The scanners, which cost P12 million each, will be moved to entry and exit points of NAIA ramp areas to prevent ramp workers from pilfering passengers' luggage, Monreal said.