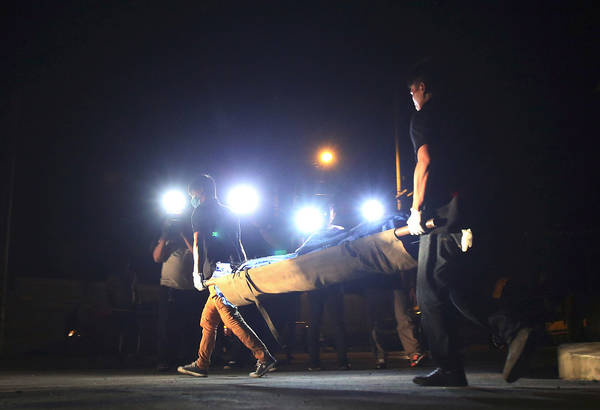 In a previous briefing, the PNP said there were only 9,782 cases under investigation from July 1, 2016 to Sept. 15 or 34 days earlier. AP/Aaron Favila, File
572 slain in 34 days – PNP
MANILA, Philippines — A total of 572 people or an average of 17 persons were killed each day in the last 34 days, the Philippine National Police (PNP) said yesterday.
Records show there were 10,354 killings from July 1, 2016 to Oct. 18 that are being investigated by the PNP Oversight Committee on Illegal Drugs under Deputy Director General Fernando Mendez Jr., the PNP deputy chief for operations.
In a previous briefing, the PNP said there were only 9,782 cases under investigation from July 1, 2016 to Sept. 15 or 34 days earlier.
PNP spokesman Chief Superintendent Dionardo Carlos said the Directorate for Operations is validating the deaths under investigation to determine the motive and identify the perpetrators.
He said the PNP will focus on internal cleansing and solve the homicide cases.
Carlos also clarified that the PNP will use the term motorcycle-riding suspects or MRS rather than "riding in tandem criminals."
Part of the Directorate for Operations' investigation is whether the local police properly investigated each case.
Carlos said if the death is drug-related, the case will be forwarded to the Philippine Drug Enforcement Agency.
Earlier, PNP chief Director General Ronald dela Rosa vowed to eliminate motorcycle-riding killers.
Many of the victims in deaths under investigation were gunned down by motorcycle-riding assailants.
President Duterte ordered the PNP to refrain from conducting operations against illegal drugs, and tapped PDEA to lead the drug war.
The directive came after the trust rating of the President dropped, apparently due to the bloody drug war waged by the PNP.
Carlos said the PNP can now concentrate on improving peace and order situation in the country since the PNP has been relieved from drug war.