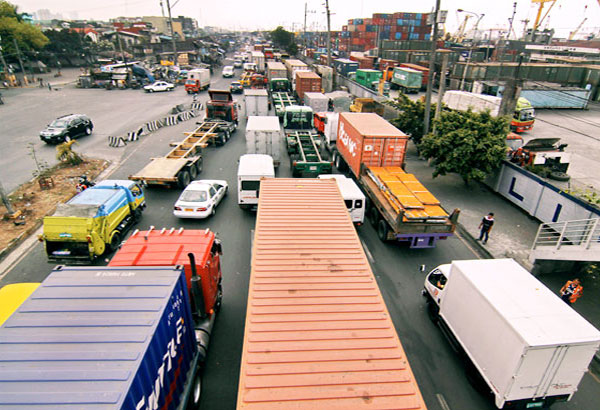 The MMDA presented the traffic measure during the Metro Manila Council meeting in Makati City on Tuesday night. The MMC is the policy-making body of the agency. File
Metro Manila mayors reject 2-day coding scheme
MANILA, Philippines — For the second time, Metro Manila mayors have turned down the two-day vehicle number coding scheme proposed by the Metropolitan Manila Development Authority (MMDA) to ease traffic congestion along EDSA.
The MMDA presented the traffic measure during the Metro Manila Council meeting in Makati City on Tuesday night. The MMC is the policy-making body of the agency.
Quezon City Mayor Herbert Bautista, who chairs the special traffic committee of the MMC, asked the MMDA to conduct a comprehensive study on how the proposed traffic measure would improve travel speed along EDSA.
Under the present number coding scheme, vehicles are banned only once a week. Those with license plates ending in 1 and 2 are prohibited on Monday, 3 and 4 on Tuesday, 5 and 6 on Wednesday, 7 and 8 on Thursday and 9 and 0 on Friday.
There used to be window hours when the owner was allowed to use his vehicle. The ban is now for the entire day. The number coding is lifted during weekends and holidays.
The idea to revise the number coding was first introduced by the MMDA last June to reduce the number of private vehicles along major roads in Metro Manila. It did not push through after the proposal received flak from lawmakers, transport groups and private motorists.
HOV lane
The MMC has approved a resolution creating the high occupancy vehicle (HOV) lane for private vehicles carrying more than two occupants.
The policy aims to encourage motorists to observe carpooling.
"We hope that fewer vehicles will ply EDSA and other major roads through ride-sharing," Bautista said.
Jojo Garcia, MMDA assistant general manager for planning, said the HOV lane aims to reduce the number of private vehicles on EDSA by at least 30 percent.
Of the 280,000 private vehicles using EDSA, Garcia said 78 percent are "cars with drivers only."
The MMDA will hold a dry run for the HOV lane on Dec. 11 through its non-contact apprehension.
The carpooling scheme was first introduced by former MMDA chief Francis Tolentino and was reconsidered during the stint of then officer-in-charge and now MMDA general manager Tim Orbos.