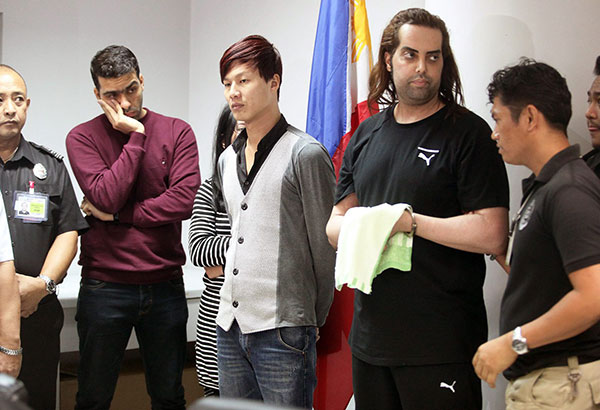 Immigration officers present to media Mohammadreza Eisa Moezzi, Chen Hul Lin, Hua Chen and Shehni Dashtegoli Reza yesterday. Rudy Santos
5 foreigners nabbed for fake passports
(The Philippine Star) - December 6, 2017 - 4:00pm
MANILA, Philippines — The Bureau of Immigration (BI) recently intercepted at the Ninoy Aquino International Airport (NAIA) five foreigners for using fake passports.
They were Somalian Mohamoud Aden Abdina, Chinese Chen Hul Lin and Hua Chen, and Iranian Shehni Dashtegoli Reza and Mohammadreza Eisa Moezzi.
Justice Secretary Vitaliano Aguirre II ordered the BI and National Bureau of Investigation to conduct a probe to determine if the five are members of a human trafficking ring.
Aguirre said the suspects were bound for the United Kingdom when they were intercepted.
The foreigners were arrested at the NAIA between Nov. 25 and Dec. 4 for using fake travel documents.
"The efforts to smuggle these individuals should be looked into," Aguirre said.
"The transit modus occurred during the ASEAN (Association of Southeast Asian Nations) summit as the airport authorities were busy with the influx of international guests," he added.
According to the BI, Abdinah was nabbed at the NAIA Terminal 2 on Nov. 25 while attempting to board a Philippine Airlines flight to Heathrow Airport in London as a transit passenger from United Arab Emirates using a fake Swedish passport with the name Mohamoud Adem Abdiselam.
Abdinah admitted that he bought the fake passport for $300.
Chen and Hua were apprehended on Nov. 30 for using fake Macau-SAR passports in attempting to fly to the United Kingdom.
Reza and Moezzi were nabbed on Dec. 4 for using fake Slovakian and French passports, respectively.