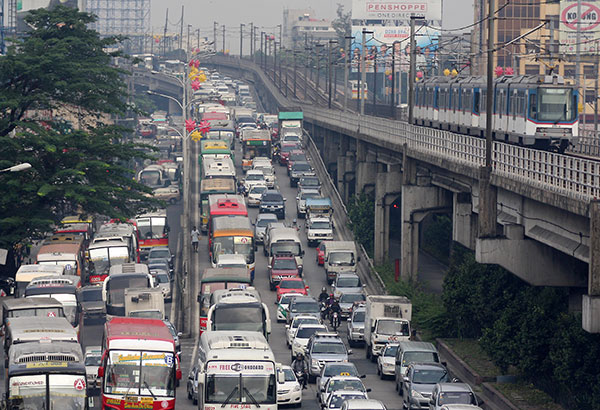 The speed limit, however, applies only to public utility vehicles (PUVs) and trucks plying the roads' two outermost or "yellow" lanes, according to Jojo Garcia, assistant general manager for planning of the Metropolitan Manila Development Authority (MMDA). File
Speed limit set on EDSA, 4 major roads
MANILA, Philippines — The Metro Manila Council (MMC) has approved a speed limit of 50 kilometers per hour for EDSA, Commonwealth Avenue, Quezon Avenue, C5 Road and Roxas Boulevard, an official said yesterday.
The speed limit, however, applies only to public utility vehicles (PUVs) and trucks plying the roads' two outermost or "yellow" lanes, according to Jojo Garcia, assistant general manager for planning of the Metropolitan Manila Development Authority (MMDA).
The MMC approved the speed limit on Tuesday.
Garcia said the decision elicited laughter from the mayors, who said there are daily traffic gridlocks on these five roads, but they noted that during the wee hours, some PUV drivers speed through Commonwealth Avenue and EDSA.
The speed limit will be enforced after the publication of the MMC's resolution.
MMDA Chairman Danny Lim said the mayors wanted to ensure the safety of commuters and avoid road crashes following the success of the "yellow lane" scheme.
The Philippine National Police's Highway Patrol Group said that there were 2,144 persons who died in road crashes in 2016 –106 percent higher than the 1,040 deaths in 2015.
The number of road crashes in the Philippines also increased by 31 percent from the 24,656 in 2015 to 32,269 in 2016.
The announcement on the speed limit came a day after the MMDA said it will test a new scheme wherein it would designate EDSA's innermost lane as a high-occupancy vehicle or carpool lane and limit "driver-only" vehicles to the two lanes beside the yellow lanes.
The dry run will start on Monday and last one week.
The new scheme seeks to reduce the number of private vehicles by about 30 percent by encouraging carpooling. – Romina Cabrera