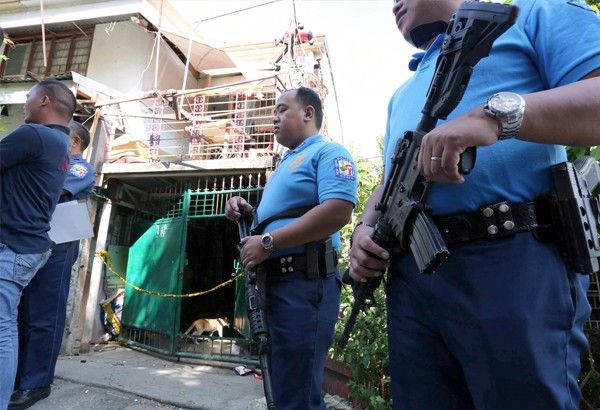 Police officers secure the scene of a shooting in Barangay 176, Caloocan City yesterday.
BOY SANTOS
Kagawad, 5 others dead in drug-related attacks
Rey Galupo
(The Philippine Star) - January 4, 2017 - 12:00am
MANILA, Philippines – A barangay council member and five others were killed in drug-related shootings in Manila and Caloocan since Monday night.
Barangay 35, Tondo kagawad Rose Callueng Constantino, 55, and her 21-year-old daughter-in-law were in their house along Camba Extension when they were shot by two unidentified men who rode a motorcycle at around 10:45 a.m. yesterday.
Constantino died while being treated at the Mary Johnston Hospital at past noon while Catherine Garcia died at the scene.
A relative of Constantino said she was taking a bath when she heard gunshots. She found the two women lying on the floor when she rushed out of the bathroom.
A neighbor said a man wearing a helmet entered Constantino's home then ran to a waiting motorcycle.
According to a source, the real target of the assailants was Constantino's son, who was reportedly involved in illegal drugs.
"Apparently Rolly failed to remit drug proceeds and has been evading the group of a certain Daniel Ocampo, who was a known pusher in the area," the source, a high-ranking police officer living in the area, told The STAR.
Footage from a closed-circuit camera near the victim's house showed two men on a motorcycle speeding away.
In Caloocan City, four unidentified assailants barged into a house in Bagong Silang and shot dead four persons Monday night.
Senior Inspector Ilustre Mendoza, city police chief investigator, identified the victim as Jefferson Viri, 35; his partner Ween Robles, 25; Michael Louie John Bonrostro, 19; and a certain "Jay-Ar."
Neighbors said Jay-Ar was fixing his motorcycle in front of his house in Barangay 176 when four men on separate motorcycles arrived at around 11:20 p.m., according to Mendoza.
Jay-Ar ran toward Viri's house to seek refuge but the assailants followed him and shot everyone inside.
Jay-Ar, Viri, and Robles died at the scene while Bonrostro died on the way to a hospital.
Probers recovered 13 spent shells from a .45 caliber pistol.
Mendoza said the victims were reportedly involved in the illegal drug trade in the area but refused to comment on who could be behind the attack.