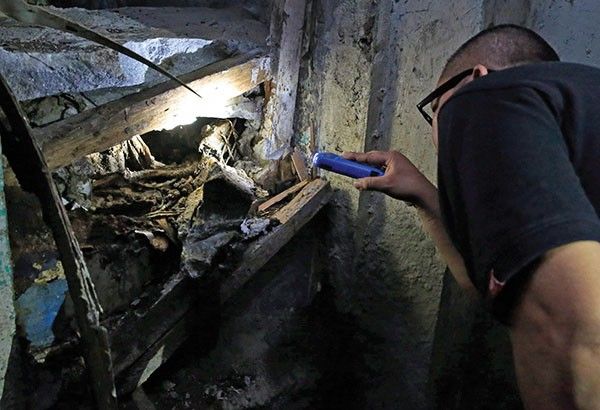 A police prober inspects the human skeletons discovered in Quiapo, Manila yesterday.
Edd Gumban
Human skeletons discovered in Quiapo
Rey Galupo
(The Philippine Star) - January 12, 2017 - 12:00am
MANILA, Philippines – Five human skeletons were discovered at an abandoned house at the Islamic Center in Quiapo, Manila yesterday.
Local officials said the house along Carlos Palanca street was the hideout of former Barangay 648 chairman Faiz Macabato, who was killed in an encounter with police during an anti-drug operation in October last year.
Manila Police District Station 8 commander Superintendent Olivia Sagaysay dispatched a team to the house after receiving reports that human skeletons were dug up in the area.
Prior to the discovery, local officials led by Sultan Yusof Guinto, officer-in-charge of Barangay 648, inspected the house after children reported a foul odor emanating from its premises.
Guinto said the odor came from a wall under the stairs.
He said barangay workers assumed there was a cavern behind the wall after knocking on it and hearing hollow sound.
Responding policemen tore down the wall and found skeletons stacked on top of each other.
"It's possible that the skeletons belonged to people involved in the illegal drug trade as the house was a meet-up point for drug deals," Guinto said.
Macabato, his brother Gaus and five others were slain in a reported shootout with anti-narcotics agents on Oct. 7, 2016.
MPD chief of directorial staff Senior Superintendent Bartolome Bustamante said they would conduct an investigation on the incident.