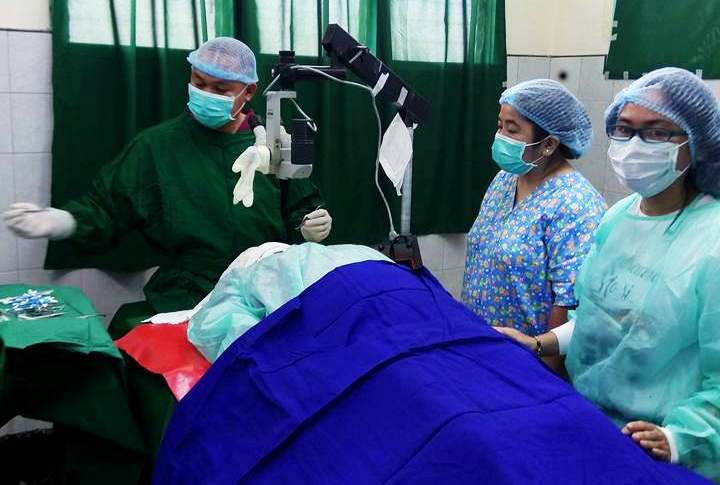 Physician Shahid Sinolinding treats a Tausug cataract patient in a government hospital in Panguratan, Sulu in this photo from his Facebook. Facebook
Patients seek justice for slain eye surgeon in Cotabato City
John Unson
(philstar.com) - May 19, 2017 - 12:48am
COTABATO CITY, Philippines - Thursday was a sad day for thousands of cataract patients treated free by murdered eye surgeon Shahid Sinolinding.
Sinolinding, 37, was shot dead by suspected guns-for-hire in his clinic in Cotabato City exactly a month ago on Thursday and prospects of putting the culprits behind bars are bleak.
His older brother, the professor Harris, survived an ambush in August 2016 while on his way to the Cotabato Foundation College for Science and Technology, located in Arakan town in North Cotabato, where he is helping co-teachers and students campaign for the ouster of school president Samson Molao on various grounds.
Sinolinding, a licensed physical therapist and an ophthalmologist, had treated without collecting professional fee more than 5,000 poor eye patients in central Mindanao and in the five provinces of the Autonomous Region in Muslim Mindanao (ARMM) in the past five years.
His brother, the physician Kadil Jr., incumbent regional health secretary of ARMM, said Friday his friends in the Philippine National Police have assured to help look into the brutal murder of his younger sibling.
Other relatives have asked the National Bureau of Investigation to step in.
They urged the police to investigate on how security cameras of the building where the victim's clinic is located mysteriously malfunctioned when two men armed with pistols attacked him and his bodyguard, Mohammad Esmael, killing them both instantly.
"It's been 30 days since that unfortunate incident and there has not been any tangible breakthrough yet in efforts to resolve the case," lamented Kadil Jr.
The Cotabato City police office had earlier released a cartographic sketch of one of the two suspects involved in the atrocity.
Tarpaulins bearing messages of sympathy to the victim's family are still displayed conspicuously in hospitals in ARMM's five provinces, where he had served no fewer than 5,000 eye patients for free.
ARMM Gov. Mujiv Hataman, chairman of the region's inter-agency regional peace and order council, had earlier asked Chief Superintendent Reuben Theodore Sindac to help the Cotabato City police put closure to the incident.
Sindac is the regional police director of the autonomous region.
Cotabato City is the political and administrative seat of ARMM, but the local police is under the administrative control of the Police Regional Office-12 based in General Santos City.
"We lost a very good eye specialist who was so kind, so benevolent to poor Muslim, Christian and Lumad patients," Samad Rahib, a 46-year-old ethnic Maguindanaon farmer, said in Filipino.
Both eyes of Rahib nearly became blind due to an infection if not for the medical intervention extended by Sinolinding free of charge.
Eye patients he treated in ARMM's island provinces of Basilan, Sulu and Tawi-Tawi, have still been mourning his demise.
Sinolinding was buried in the compound of an eye hospital he was building along a national highway in Kabacan town in North Cotabato, an institution he planned to have a charity ward for indigent patients.
Some of his male patients even had their heads shaven cleanly to show their indignation over his death exactly a month ago on Thursday.