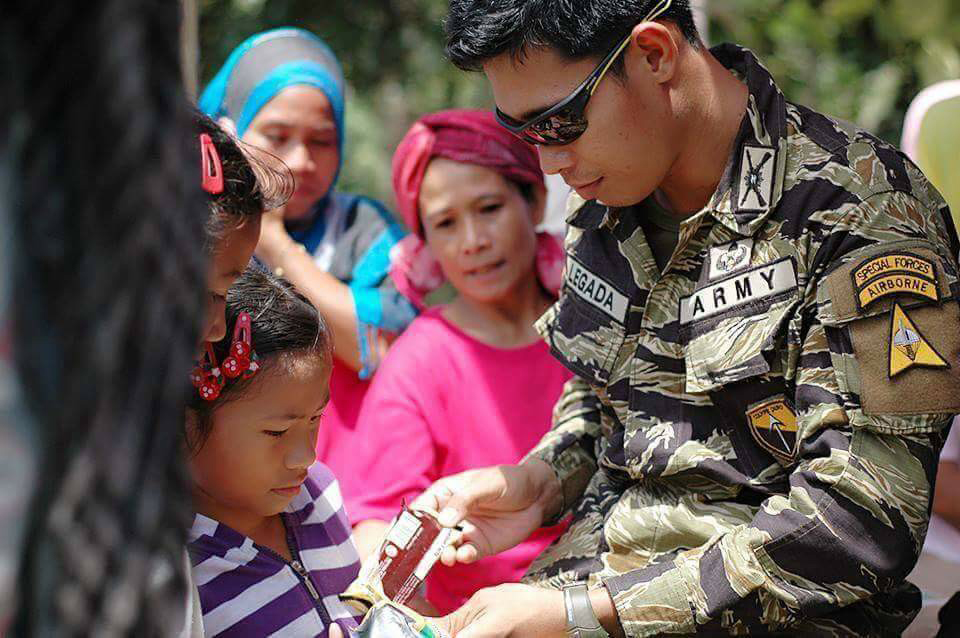 1Lt. Junrich Legada during one of the recent humanitarian missions of their unit. Photo courtesy of Legada family
Family mourns soldier killed in Marawi as tributes flood in from community
John Unson
(philstar.com) - June 18, 2017 - 1:51am
LANAO DEL SUR, Philippines — North Cotabato is grieving over the death in Marawi City of another son, the sixth soldier from the province killed there in line of duty since May 23.
1Lt. Junrich Legada, a nurse in an Army Special Forces unit fighting the Maute terror group, even planned to marry his girlfriend of ten years immediately after their operation in Marawi City.
"His girlfriend lost a good would-be husband and his family lost a member with good standing in the local community," North Cotabato Vice Gov. Shirlyn Macasarte-Villanueva told The STAR on Sunday.
Legada died on Friday in a hospital, exactly four days after he was admitted for gunshot wounds.
Macasarte-Villanueva, who is from nearby Banisilan town, said like Legada's friends, she too is aware about his plan to propose marriage to her girlfriend as soon as the trouble in Marawi City wanes.
"The province lost another son. We are mourning his death. We lost in Marawi City six sons of North Cotabato who exemplified what `supreme sacrifice' for country and God is all about," Macasarte-Villanueva said.
North Cotabato Emmylou Taliño Mendoza will extend cash assistance to the family of Legada and help facilitate his burial.
North Cotabato covers 17 towns and 40 barangays in its capital, Kidapawan City, seat of the provincial government.
The governor earlier extended help to the families of Capt. John Carl Morales, Sgt. Marlon Baldovino, Sgt. Eric Jason Coros, Sgt. Angelo Estores, Jr. and Cpl. Elmer Bueno, all from North Cotabato.
They belonged to different Army units and perished one after another in encounters with Maute and Abu Sayyaf gunmen in Marawi City.
The five of them have all been buried in their hometowns in North Cotabato with traditional military burial rites attended by local officials, traditional Muslim and Christian community elders.
Legada, the sixth soldier from the province killed in action in Marawi City, was born and raised in Midsayap, a booming agricultural town and home to mixed Muslim and Christian settlers.
Relatives said he had received several special service citations, including a Gold Cross medal for bravery in combat within a short period after he joined the Philippine Army.
He was known for his obsession with military outreach medical and dental mission benefiting the poor Muslims and Christians in remote barrios.
"He always looked forward to it and would tell lengthy stories about his happiness to have served sick villagers. He was so delighted doing it," said a Muslim friend, Rashid Omar Salik.
Members of his immediate family had politely declined requests for an interview and asked for privacy as they mourn his death.