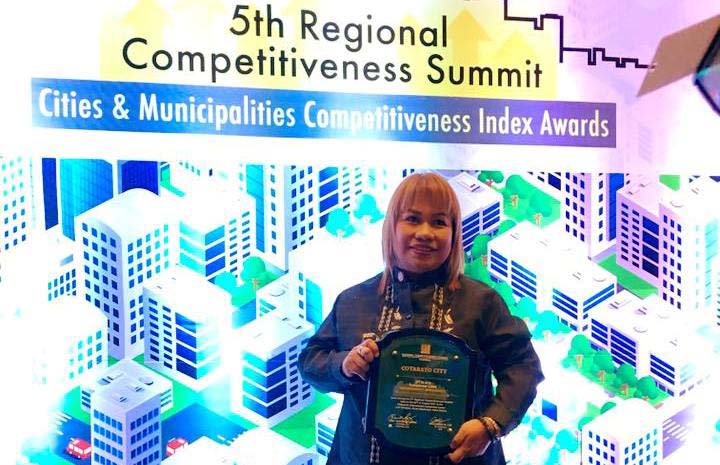 Mayor Cynthia Guiani-Sayadi received on Wednesday the plaque citing Cotabato City as one of the country's most competitive cities based on a nationwide search by the National Competitiveness Council. Cotabato City Information Office
Cotabato City ranks 2nd in most competitive cities
John Unson
(philstar.com) - August 17, 2017 - 2:41am
COTABATO CITY, Philippines — Efforts to entice investors to come to this once hostile city got a boost with its having won another governance efficiency citation from a national entity.
Cotabato City on Wednesday landed on the second top spot for the government efficiency category of the 2017 search for most competitive cities in the Philippines.
Halima Satol-Ibrahim, city information officer, said on Thursday that the award was received by Mayor Cynthia Guiani-Sayadi during the 5th Regional Competitiveness Summit Awards Ceremony at the Philippine International Convention Center in Pasay City.
The yearly grant of awards to competitive cities in the country is an activity of the National Competitiveness Council (NCC).
No fewer than a hundred cities in the country vied for this year's NNC efficient governance awards, according to a report from the council.
The council is a non-profit entity comprised of different state agencies and public organizations promoting good governance, peace and economic stability in line with the Philippine Development Plan.
It is composed of representatives from the trade, finance, energy, tourism and education departments, from the National Economic Development Authority and local sectoral representatives, among them officials of business communities and peace advocacy blocs.
"The office of the city mayor is thankful to its constituent-sectors for helping promote good governance through community peace initiatives and other activities complementing the effort of transforming our local government unit into a facet of good governance," Satol-Ibrahim said.
The city police office had announced earlier that the crime volume here during the first three months of 2017 was 65 percent lower than what it recorded during the same period last year.
Bai Sandra Siang, president of the Kutawato Muslim Business Club, on Thursday said the city's having been included in the top ten most competitive cities in the country in the NCC-initiated search will surely improve the local economy.
"Capitalists outside of Cotabato City will feel that it is now safe to put up businesses here," Siang said.
Chief Superintendent Cedrick Train, director of the Police Regional Office-12, said one factor improving the security situation in Cotabato City is the hands-on involvement of LGU executives in law-enforcement activities.
"Barangay officials led by the incumbent mayor patrols the streets at nighttime to help the police and the military maintain law and order, restraining lawless elements from moving around," Train said.
He said one of the clear indications that Cotabato City is booming is the proliferation of money remittance establishments, restaurants and pawnshops in strategic areas in its business hubs.
"The PRO-12 is always ready to provide support needed to sustain that growth through the Cotabato City police office," Train said.
The Cotabato City government had received several citations related to governance proficiency in the past five years, among them the "child-friendly city" award from the Council for the Safety of Children.