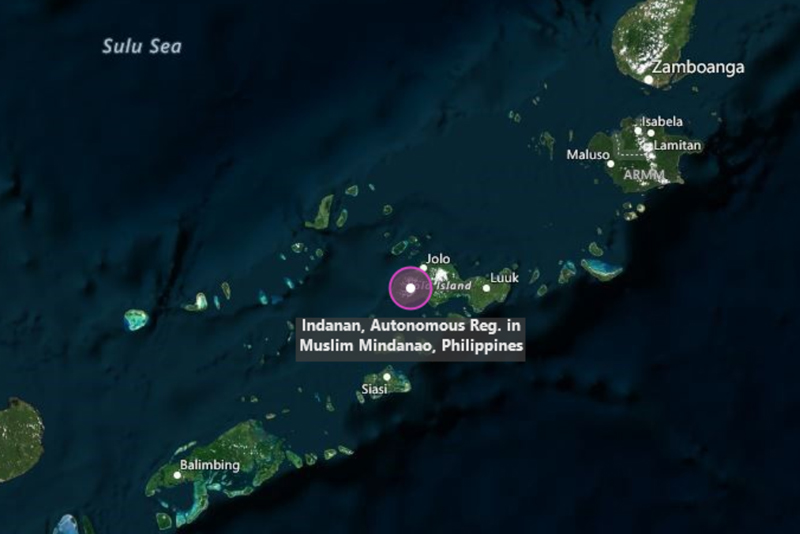 This sattelite image shows the Sulu archipelago. Google Earth
Abu Sayyaf, 7 others arrested at Sulu checkpoints
ZAMBOANGA CITY, Philippines — Government forces arrested a member of the Abu Sayyaf group while seven others were apprehended for illegal possession of firearms in two separate operations in Sulu, a military official said Sunday.
Brig. Gen. Cirilito Sobejana, commander of Joint Task Force Sulu, identified the captured Abu Sayyaf member as Fahar Ismael, alias Putoh Taron.
Sobejana said Ismael was intercepted by soldiers of the 41st Infantry Battalion and by police in a joint checkpoint last Wednesday morning at Barangay Timbangan, Indanan town, Sulu.
The military said that based on interrogation by police, Ismael is wanted for his participation in the abduction of engineer Marso Salinas and Tawiwanese national Chang An Wei — also known as Evelyn Chan — in November 2013.
The military said Ismael also has a standing warrant of arrest for murder.
Meanwhile, Sobejana said intensified checkpoint operations as part of the implementation of martial law led to the arrest of seven people Friday for possession of firearms Lugus town.
The Philippine Marine Ready Fleet Sulu and the Marine Battalion Landing Team 1 under Lt. Col. Stephen Cabanlet, and the 52nd Special Action Company, Special Action Force recovered from the suspects three M14 rifles, two M16 rifles, an M1 Garand, a caliber .45 pistol, ammunition and uniforms.
The suspects and the firearms were turned over to the police.