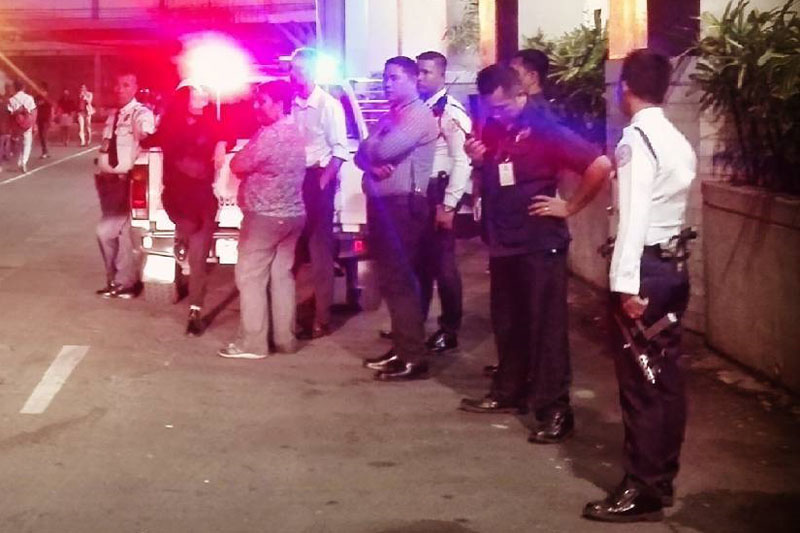 Security guards and barangay officials at a commercial are in Cubao, Quezon City. File photo
NUPL: Random inspections 'illegal, unconstitutional'
(philstar.com) - September 15, 2017 - 7:20am
MANILA, Philippines — A group of lawyers on Friday slammed the random bag inspections in bars and night clubs by the Quezon City Police District.
The National Union of People's Lawyers (NUPL) refuted the claim of Chief Superintendent Guillermo Eleazar, director of the Quezon City Police District , that these inspections are legal and should not worry people.
"These are patently illegal acts and openly unconstitutional. These are brazen violations of the right to privacy and the right against unreasonable searches and seizures," NUPL , which has taken on cases for the marginalized like convicted OFW Mary Jane Veloso, said.
Eleazar told Philstar.com that these inspections are part of the Philippine National Police's Oplan Bakal, a campaign where cops inspect establishments that sell liquor for contraband.
The Quezon City police chief also said the authorities coordinate with the owners of establishments they plan to inspect.
On Thursday, anxious netizens expressed their concern over a photo of cops "randomly" inspecting bags in establishments along Katipunan Avenue to check for firearms and illegal drugs.
No search warrants were presented during the surprise inspections. Only an active judge can issue one.
NUPL said searches without warrants can be done in specific instances only and these must always be based on probable cause—not mere suspicions or speculations.
The group said limited instances where warrantless searches are deemed valid include:
search incidental to a lawful arrest
search of a moving vehicle which is the object to be seized
search of illegal objects in plain view
search voluntarily allowed, permitted or consented by the person to be searched
searches in Customs
searches upon entry in public places such as malls
"If the police persists with these roving bands, we will bring them again to court that they will be too tied up defending their actions," NUPL said.
READ: QCPD: Search of Katipunan bars a standard operation
Patrons can refuse search
According to the
"Know Your Rights" handbook
that the PNP itself released, face-to-face contact with the police "does not mean that the citizen is being suspected of committing a crime." During that contact, police are allowed to do this "only for legitimate police-related purposes and to engender citizen support in solving crimes."
During the contact, police are not allowed to frisk or detain citizens. Police cannot coerce citizens to answer questions or keep them from simply leaving.
Police officers are also supposed to introduce themselves and explain why they are there. Any contact should be done "in a courteous and restrained manner at all times and [police must] avoid stern words that sound like commands." Officers are also "expected to keep the contact as brief as possible."
The same handbook reminds officers that, under the 1987 Constitution, "all persons have the right to be secure in their persons, houses, papers, and effects against unreasonable searches and seizures. No search warrant or warrant of arrest shall be issued except upon probable cause."
Although warrantless search and seizure is allowed, the handbook makes clear that can only be done when one is arrested.
However, the search is considered legal "when a citizen waives [their] right and consents to the search and seizure." Police officers are required to ascertain that the citizen knows their right to refuse to the search.