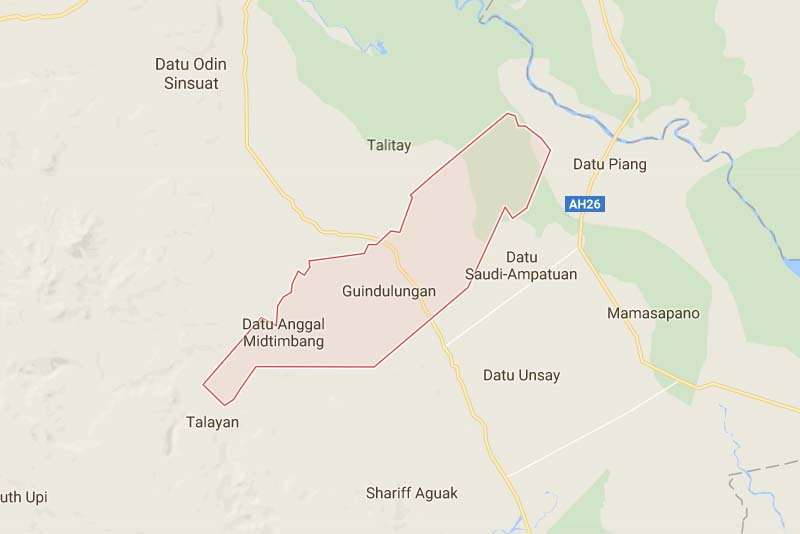 The military launched a preemptive artillery strike against Bangsamoro Islamic Freedom Fighters in Guindulungan town in Maguindanao. Google Maps
Military locked in firefight with ISIS-inspired BIFF
John Unson
(philstar.com) - September 23, 2017 - 9:36am
MAGUINDANAO — The military on Friday bombarded militants who were about to attack soldiers in Guindulungan town in an attempt to avenge the deaths of companions in clashes with the Moro Islamic Liberation Front.
Four members of the Islamic State-inspired Bangsamoro Islamic Freedom Fighters, identified only as Dimas, Sanggutin, Usop and Yasser, were confirmed injured in the artillery barrage, according to local officials.
Captain Arvin Encinas, public affairs officer of the Army's 6th Infantry Division, said on Saturday that the preemptive artillery strike was launched after military units in Guindulungan learned of the suspicious convergence of followers of Imam Bongos in a secluded barangay there.
Imam Bongos is leader of one of three factions in the BIFF, all operating in the fashion of the Islamic State of Iraq and Syria.
His men attacked after dawn Saturday the combined personnel of the Army's 37th Infantry Battalion and 6th ID's 64th Division Reconnaissance Company dispatched to hunt them in Barangay Muslim in Guindulungan, sparking gunfights that spilled over to nearby villages.
There were no reports of casualties in the ensuing firefights yet but the sound of gunfire and explosions that reverberated through the villages caused panic among residents.
Senior police intelligence officials said followers of Imam Bongos planned to harass Army detachments in Guindulungan on Friday night, but scattered away when 105 Howitzer cannon projectiles started falling on their positions.
Local executives in Maguindanao's Guindulungan, Datu Saudi and Salibo towns said on Saturday that the foiled attacks by followers of Bongos were meant to avenge the deaths of militants in a 3rd BIFF faction led by Esmael Abdulmalik.
Abdulmalik and his men are locked since August 2 in a continuing standoff with pursuing guerillas of the MILF, which has an ongoing cooperation with the national government.
The MILF started attacking Abdulmalik's group last month for attempting to hoist the ISIS flag on strategic spots inside enclaves of the front in Maguindanao that are recognized as "peace zones" by the national government.
The 6th ID and the Tactical Operations Group-12 of the Philippine Air Force are providing support to MILF forces running after the ISIS-inspired group of Abdulmalik.
The MILF already lost more than a dozen guerillas in its continuing offensive against Abdulmalik's group, launched in keeping with its 1997 ceasefire accord with Malacañang.
The interim truce binds the MILF, the Philippine National Police and the Armed Forces of the Philippines to cooperate in maintaining law and order in conflict flashpoint areas in southern provinces.