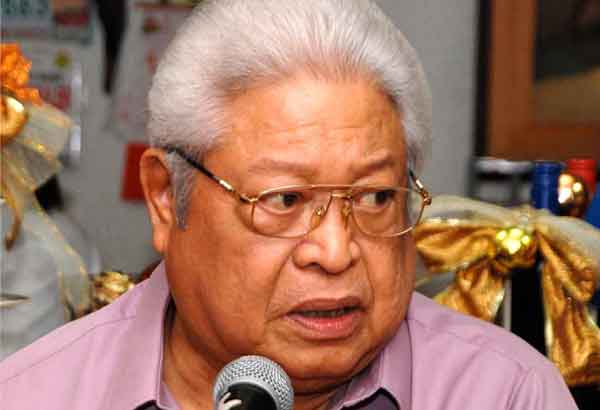 Albay Rep. Edcel Lagman backs team of Chief Justice Maria Lourdes Sereno in its request to cross-examine witness in impeachment rap. FILE
Lagman backs Sereno request to cross-examine witnesses
(philstar.com) - September 28, 2017 - 7:30am
MANILA, Philippines – Chief Justice Maria Lourdes Sereno's request to cross-examine "witnesses" in the case against her is "in order", according to Albay Rep. Edcel Lagman.
Sereno's team of lawyers, led by Alex Poblador, filed a letter before the House of Representatives Committee on Justice asking to be allowed to confront and cross-examine the resource persons against the chief magistrate.
The camp added that the resource persons are "witnesses" in the impeachment rap filed by lawyer and defeated senatorial candidate Larry Gadon.
Lagman is not a member of the House of Representatives' Committee on Justice.
The solon noted in a statement that: "While an impeachment proceeding is a political process, it is imbued with a judicial nature akin to a criminal prosecution."
In their letter, Sereno's camp pointed out that in the particular stage of an impeachment procedure, the Committee members are currently "judges or quasi-judges whose duty like the 'investigating officer' in preliminary investigations, is to determine probable cause."
They said that, therefore, it would "not be acceptable" for the committee members to conduct the cross-examination.
Lagman also echoed the reason provided by Sereno's team of lawyers, citing Section 6 of the Rule III of the Committee on Justice.
"This rule indubitably grants the respondent the right of cross-examination and the only limitation is the authority of the Chairperson to reasonably delimit the period of such cross-examination, but not to deny the same," Lagman said in a statement.
Gadon accused Sereno of committing culpable violation of constitution, corruption, high crimes and betrayal of public trust.
In several interviews, Gadon said that there are at least three justices who will be willing to testify against Sereno, but he has yet to divulge the names of the said magistrates.
Sereno's camp earlier asked the committee to dismiss Gadon's complaint, in n 85-paged Verified Answer filed on Sept. 24, for "lack of sufficient grounds and for lack of probable cause."