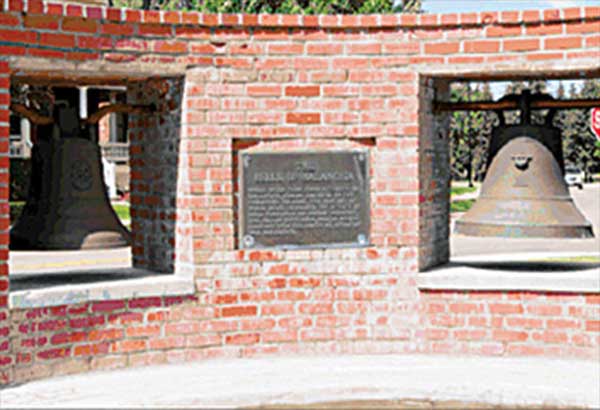 The US earlier vowed to resolve the issue of the Balangiga bells after President Rodrigo Duterte, in his second State of the Nation Address, demanded that the US government return them. File
Palace welcomes House support for demand to return Balangiga bells
(philstar.com) - September 28, 2017 - 6:50am
MANILA, Philippines – Malacañang on Thursday welcomed a House of Representatives resolution supporting President Rodrigo Duterte's call for the US government to return the three Balangiga bells.
"We welcome House Resolution 1337 expressing support for the President's appeal to the United States government to return the Balangiga bells to the Philippines," Presidential Spokesperson Ernesto Abella said in a press briefing.
"Today, September 28, the nation remembers the 116th anniversary of the heroism and gallantry of our forebears in the municipality of Balangiga in Eastern Samar. And we also reiterate our call for the rightful return of the bells to the country," Abella added.
Speaker Pantaleon Alvarez, Majority Leader Rodolfo Fariñas, Minority Leader Danilo Suarez and Reps. Ben Evardone of Eastern Samar and Raul Daza of Northern Samar authored the resolution.
The US earlier vowed to resolve the issue of the Balangiga bells after Duterte, in his second State of the Nation Address, demanded that the US government return them.
READ: Duterte tells US: Give back Balangiga bells
"We are aware that the Bells of Balangiga have deep significance for a number of people, both in the United States and in the Philippines. We will continue to work with our Filipino partners to find a resolution," US Embassy spokesperson Molly Koscina said in a statement.
The bells were taken by American troops in 1901 as spoils of war. In his speech, Duterte mentioned the massacre in Balangiga, Samar wherein 48 American soldiers were killed by Filipino guerillas.
He noted the American officials retaliated by ordering the killing of all Filipino males who could bear arms.
US troops were also instructed to make the interior of Samar a "howling wilderness." The Americans, Duterte said, seized three church bells as war booty.
"The Balangiga bells are integral to our national heritage and the return of these historical relics is crucial to our collective memory and sense of nationhood," Abella also said in the same news briefing.
Ties between Manila and Washington soured during the Obama administration, which vehemently condemned Duterte's brutal war on drugs.
But the two countries' relations improved after US President Donald Trump, whom critics accused of endorsing Manila's controversial anti-drug campaign, praised Duterte for doing a "great" job in fighting illegal drugs.