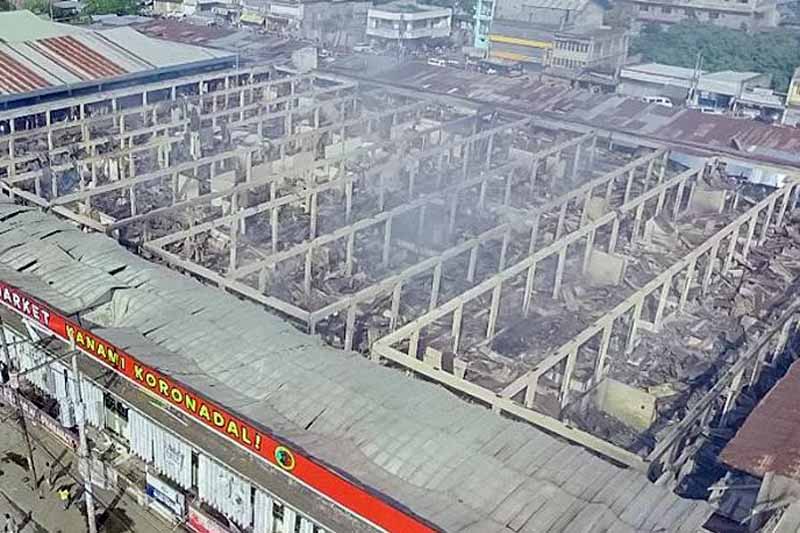 The Koronadal City public market was almost completely destroyed by fire on Tuesday night. Courtesy of Amiel Cagayan, Oblates of Mary Immaculate I-Watch
Fire razes Koronadal public market
John Unson
(philstar.com) - October 11, 2017 - 6:44am
KORONADAL CITY, Philippines— The city police and the Bureau of Fire Protection are now investigating the fire that hit the public market in the capital of South Cotabato province Tuesday night.
The chief of Koronadal City's BFP office, Senior Inspector Jennelyn Te-elan, told reporters Wednesday they now have clues into how the conflagration started but declined to elaborate pending the results of the investigation.
She said it took them more than four hours to control the blaze, which was reported to their station by market guards and barangay officials at 8:49 p.m. on Tuesday.
Personnel of the city police and barangay tanods immediately secured the surroundings of the public market to prevent looting while firefighters from the city's BFP office and from stations in nearby towns worked together to douse the fire.
"Let us give investigators enough time to finish their investigation on that fire incident," Te-elan said.
Cyrus Urbano, city administrator and action officer of the Koronadal disaster risk reduction and management council, said authorities have cordoned the public market off to prevent owners of the burnt stalls and onlookers from getting close while probers are still sifting through the fire scene.