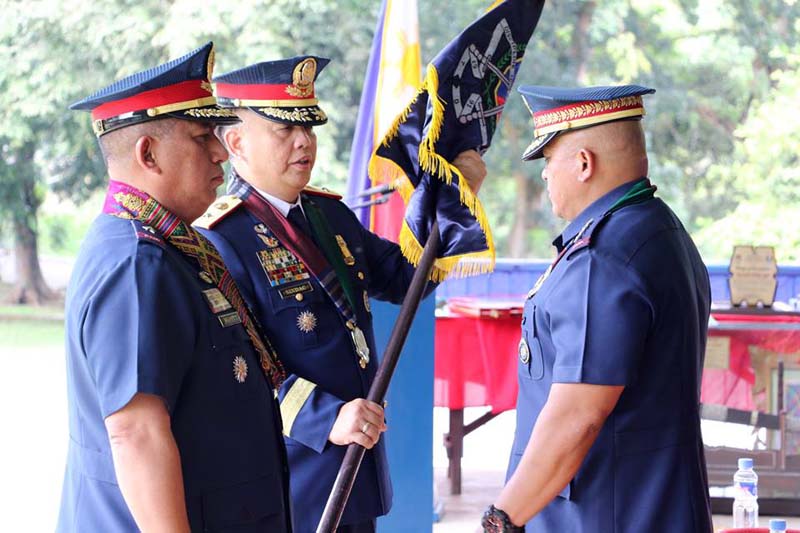 Police Director General Ronald "Bato" Dela Rosa at the symbolic turnover of the ARMM police directorship from Chief Superintendent Reuben Theodore Sindac (middle) to Chief Superintendent Graciano Mijares (left). JOHN UNSON
New PNP-ARMM chief: I want peace in my homeland
John Unson
(philstar.com) - October 22, 2017 - 2:55am
MAGUINDANAO, Philippines — The new police director for the Autonomous Region in Muslim Mindanao has vowed to helping push the peace process in the southern Philippines forward.
Chief Superintendent Graciano Mijares, who graduated from the Philippine Military in 1986, took command of the Police Regional Office-Autonomous Region in Muslim Mindanao from his PMA upperclassman, the Chief Superintendent Reuben Theodore Sindac.
Sindac, who belongs to PMA class 1984, served in the Army, the Philippine Constabulary and the Philippine National Police for 37 years.
Mijares said he will extend the same support Sindac provided to people in the government and the Moro Islamic Liberation who are working together to put closure to the now 50-year Mindanao Moro issue.
"I was born in Marawi City, raised in Mindanao, so how can I not support the Mindanao peace process? I love peace. I want peace in my homeland," Mijares said.
The ceremonial PRO-ARMM leadership transition rite was led by PNP Director General Ronald "Bato" Dela Rosa, who also hails from Mindanao.
Dela Rosa lauded Sindac for his role in the surrender of thousands of drug dependents and peddlers to the provincial and municipal police offices and in the restoration of normalcy in the conflict-stricken Marawi City while director of PRO-ARMM.
He awarded Sindac with three more citation medals for his accomplishments as police director for the autonomous region during a program at Camp SK Pendatun in Parang town in Maguindanao.
Mijares said he will emulate the management examples of Sindac, who was tasked with heading the ARMM police in December 2016.
"He is a Mindanaon. He speaks well of the socio-economic, political and religious dimensions and intricacies of the southern communities. I know he will make good," Sindac said of the new regional director.
Mijares told The STAR he will work closely with Presidential Adviser on the Peace Process Jesus Dureza, also a Mindanaon, in protecting the gains and dividends of Malacañang's peace overture with the MILF and the Moro National Liberation Front.