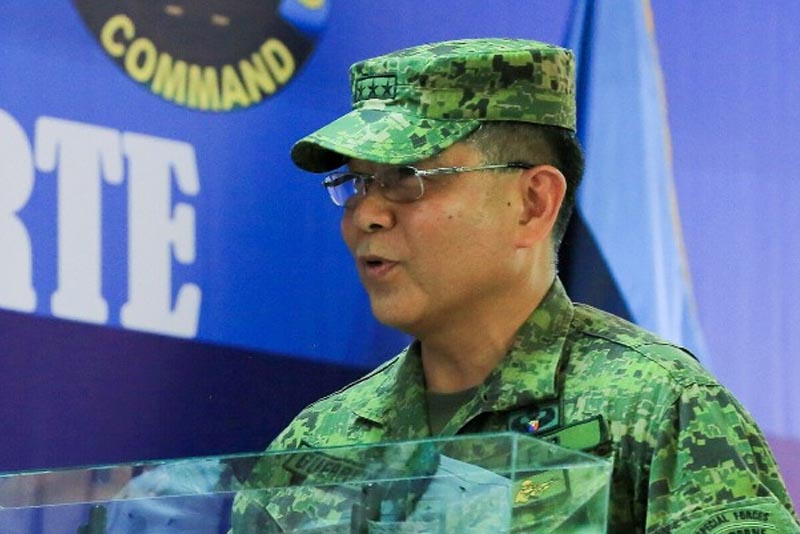 In this Sept. 1, 2017 file photo, Rey Guerrero appears at 11th Founding Anniversary celebration of the Eastern Mindanao Command at the Naval Station Felix Apolinario in Panacan, Davao City. PPD/Albert Alcain
Military to revisit war doctrine after Marawi experience
Roel Pareño
(philstar.com) - October 30, 2017 - 11:12am
ZAMBOANGA — The armed forces is set to upgrade is war fighting doctrine after having gained experience from the brutal, months-long battle with militant extremists in the recently "liberated" city of Marawi.
Newly installed chief of staff Lt. Gen Rey Leonardo Guerrero said there will be changes to the operational guidelines of the armed forces, especially for ground forces involved in counter-terrorism operations on elevated terrain.
"There will be changes (to the doctrine). In fact we have already initiated steps to revisit our war fighting doctrines and the lessons learned as a result of the Marawi incident," Guerrero said in his first visit to the Western Mindanao Command based here.
Military doctrine is considered the theoretical foundation by which forces guide their actions to achieve certain objectives. It is not considered a set of rules, but a body of principles flexible enough to be applied to different circumstances.
Over the past six months, soldiers were engaged in urban warfare with Islamist radicals inspired by the global terrorist organization Islamic State. The militants positioned themselves in buildings and other structures for defense.
A Scout Ranger, who was among the soldiers given a heroes welcome on Monday, said enemies were well trained and had good snipers among them.
"Just imagine, my buddy just accidentally exposed his arm for few seconds was already hit by sniper out of nowhere. The fight in urban was totally different compared to the jungle," a member of the 5th Scout Ranger Battalion said.
Guerrero said revisions to the Armed Forces of the Philippines' war doctrine will be included in future training and operations.