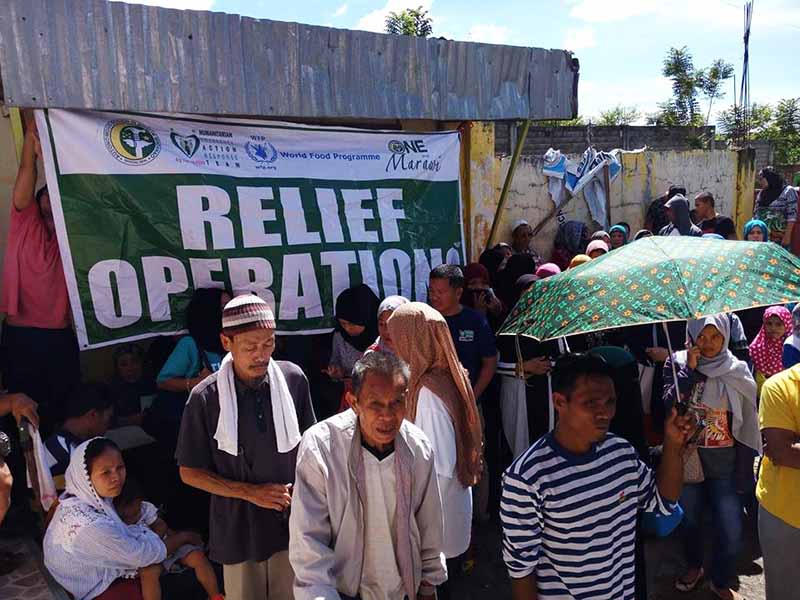 Evacuees returning to Marawi City are being assisted by relief workers from the office of the mayor, the Lanao del Sur provincial government and the Humanitarian Emergency Assistance and Response Team of the Autonomous Region in Muslim Mindanao. Philstar.com/John Unson
ARMM starts repair of schools damaged during Marawi siege
John Unson
(philstar.com) - November 25, 2017 - 8:27am
LANAO DEL SUR, Philippines — The repair of school buildings damaged by the conflict in Marawi City has started and more campuses are expected to reopen soon in areas now secured by authorities.
John Magno, regional education secretary of the Autonomous Region in Muslim Mindanao, said on Saturday their effort to restore the school buildings is supported by Marawi City Mayor Majul Gandamra and the local district engineering office.
Classes in more than a dozen schools in Marawi City have resumed after President Rodrigo Duterte announced last month that state security forces have cleared all of its barangays from Maute and Abu Sayyaf gunmen.
DepEd-ARMM is targeting the initial repair of at least seven schools near what became as "main battle area" during the five-month siege of Marawi City by terrorists.
Magno's deputy, Alfhadar Pajiji, announced in Marawi City Wednesday that DepEd-ARMM has earmarked P34 million for the initial rehabilitation of the seven school buildings.
Pajiji, who is assistant regional education secretary, was in Marawi City Wednesday to inspect school campuses the military and police have just cleared from booby traps laid by terrorists.
Magno said authorities have also approved the reopening of the Matampay, Tampilong, Datu Saber, Basak, Amai Pakpak and Pandi Elementary Schools.
Magno, citing reports from the office of Zenaida Unte, DepEd-ARMM's assistant schools superintendent in Marawi City, said also to be reopened is a local national high school, now guarded by authorities.
Magno said the five-month hostilities in Marawi City displaced no fewer than 60,000 elementary pupils and high school students.
Thousands of the displaced school children are attending remedial classes in temporary learning sites located in safe areas.
The children in the makeshift learning facilities are regularly supplied with nutritious meals by DepEd-ARMM, the World Food Programme and the Gawad Kalinga, a Philippine humanitarian outfit.
Magno said 22 schools in the main battle area were badly damaged by the heavy gunfights between terrorists and government forces.
"The executive department of ARMM is doing its best to address the problem. The national office of DepEd is also extending support towards that end," Magno said.
ARMM Gov. Mujiv Hataman announced last Monday that the regional government will allocate P930 million for rehabilitation projects in Marawi City.
Hataman said the ARMM administration will also separately provide P250 million, from the coffers of different regional agencies, as initial seed fund for the reconstruction of Marawi City's devastated socio-economic facilities.
Gandamra, chairman of the Marawi City peace and order council, said thousands of residents have returned to more than a dozen barangays the military and police have declared safe.
He said they are now working on the return of more evacuees to at least eight more barangays in the coming weeks.
Among the first to resettle in their abandoned homes were displaced residents of Marawi City's adjoining Barangays Basak Malutlut, Matampay, Panggao Saduc, Datu Saber, Tampilong, Luksadatu, East Basak and Barrio Green, scenes of deadly clashes between government troops and militants.
Gandamra, elected to office only last year, said on Saturday that he is thankful to the provincial government of Lanao del Sur and ARMM's Humanitarian Emergency Assistance and Response Team for helping provide continuing relief interventions to the returning evacuees.
The ARMM-HEART and personnel of the Lanao del Sur provincial government have established relief centers in cleared barangays to attend to the needs of residents who have returned from the evacuation centers.