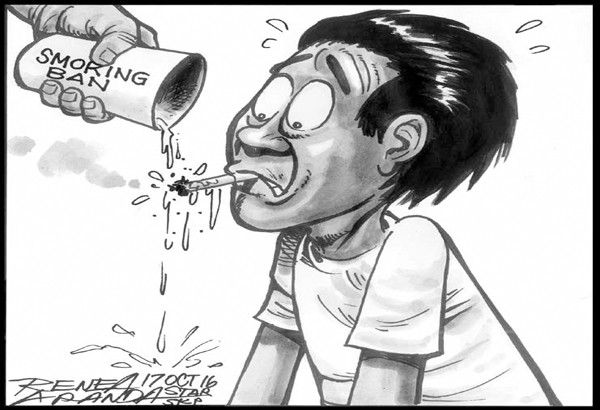 EDITORIAL - Smoke-free Philippines
(The Philippine Star) - October 17, 2016 - 12:00am
Malacañang is reportedly finalizing an executive order that will impose a nationwide smoking ban. The prohibition, officials say, will be patterned after the ban in President Duterte's home city of Davao.
The President has said he opposes even smoking areas inside buildings, such as those in airports, since the smoke still seeps out of the rooms.
This is good news for public health. Children, the elderly and ailing are particularly vulnerable to the sickening effects of second-hand smoke. Numerous forms of illnesses including tuberculosis and cancer have been linked to smoking. Studies have also shown that it raises the risks of a heart attack or stroke. Experts have stressed that stopping smoking adds several years to life.
As in local smoking bans in the country, the question is how efficiently a nationwide ban can be enforced. In Metro Manila, many restaurants even in five-star hotels allow smoking areas, with no walls to keep such areas enclosed, rendering the ban useless. Smoking is allowed in several casinos, with the smoke reaching adjacent restaurants in the same building. Among the most brazen violators are public officials themselves, who seem to believe they are above anti-smoking laws.
Effective enforcement of this landmark prohibition will require a dedicated anti-smoking police. Who will enforce the ban? There's a sound proposal to impose heavier penalties not on smokers but on owners of public establishments that allow smoking in their premises. This can be included in the executive order.
A hotline can be set up for public complaints against violators of the upcoming ban. As in other public hotlines, the government must make sure there will be more than one number to call or send a text message or digital photo, and that the numbers will always be manned.
Enforcement of the ban can also be accompanied by an information campaign on the health risks posed by smoking. This ban works best if people realize that it is being enforced for their own good.