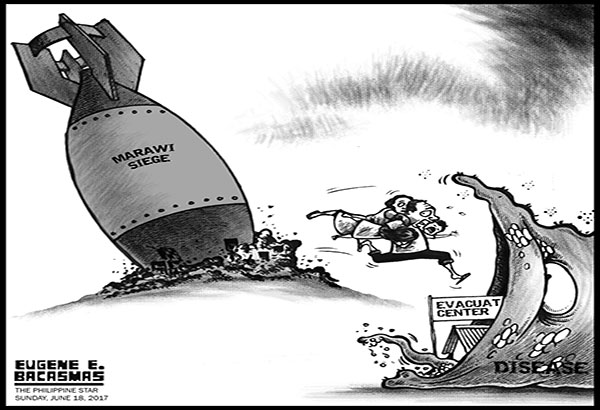 EDITORIAL - The other crisis
(The Philippine Star) - June 17, 2017 - 4:00pm
Since the start of the Marawi siege last month, thousands have fled the city and sought refuge in evacuation centers. In these crowded facilities that are not equipped to handle such throngs of humanity, those who escaped death at the hands of Maute and Abu Sayyaf terrorists are being claimed by another killer: disease.
Health officials count 39 persons so far succumbing to various illnesses in crowded evacuation centers since the start of the conflict. Children are particularly vulnerable: three of the 39 fatalities were reportedly children who died of diarrhea-induced dehydration.
Among the health hazards, officials said, was the inadequacy of clean water and sanitation facilities including for the disposal of human waste. Cholera and other potentially life-threatening illnesses can spring from filthy surroundings. And when evacuees get sick, they find it difficult to reach health centers because of tight security checks that slow down vehicular and foot traffic in Marawi, Iligan and other neighboring areas.
More than 40,000 Marawi residents have reportedly sought temporary refuge at the homes of relatives outside the city. But emergency response teams count more than 200,000 internally displaced people from Marawi who are currently housed in evacuation centers.
Children who are not suffering from illnesses have seen their education disrupted. With the opening of classes, the government is moving to have schools outside Marawi accommodate the displaced students, but moving to another school is not easy. Children need their families with them for support in getting formal education. The family needs a source of livelihood for food and other basic needs; relief goods are barely enough.
Several women who have given birth in squalid evacuation centers face worse problems as the babies are most vulnerable to infections. The Mautes are on the run, but the humanitarian crisis they have precipitated among the people of Marawi continues to claim lives. The government must confront this crisis with as much zeal as the military response to the threat.