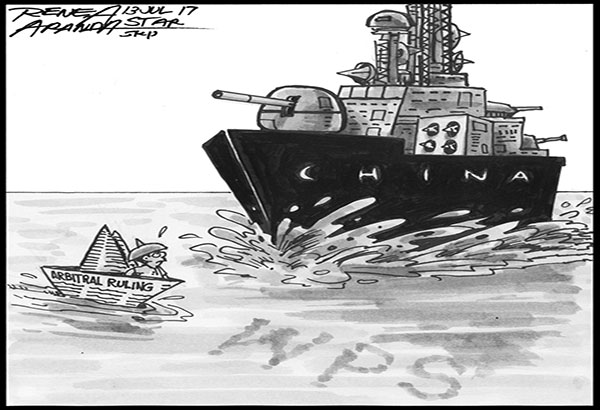 EDITORIAL - Winner, loser
(The Philippine Star) - July 12, 2017 - 4:00pm
The Philippines marked one year yesterday since the UN-backed Permanent Court of Arbitration in The Hague handed down its landmark ruling on the country's maritime entitlements in disputed waters. The PAC had given the country a sweeping victory, not only awarding the Philippines sovereign rights over specific areas but also invalidating Beijing's entire "nine-dash-line" claims over nearly all of the South China Sea.
President Duterte, who had been in power for less than two weeks when the ruling was handed down, swiftly moved to soften the blow for China. Fueled by his open dislike for the United States, he announced an "independent" foreign policy whose key features include a pivot to China and stronger ties with Russia.
Filipinos are still waiting for his rapprochement with Beijing to yield positive results in the South China Sea. Yesterday, to mark the first anniversary of the PAC ruling, the Philippine Coast Guard flew over Panatag or Scarborough Shoal off Zambales and spotted four Chinese coast guard ships still patrolling the area. Chinese occupation of the shoal prompted the Philippines to turn to UN arbitration. The PAC declared Panatag as a common fishing ground where no country can prevent others from fishing.
The first anniversary of the PAC ruling was also marked yesterday amid recent reports that the Chinese have set up military installations on Panganiban or Mischief Reef off Palawan. The PAC had specifically awarded sovereign rights to the Philippines over Panganiban, where China began setting up huts in 1993. The reef is now one of China's artificial islands in the Spratlys.
President Duterte has been defending his pivot to China by touting the economic benefits that undoubtedly can be gained by improved ties with the world's second largest economy. But he and Beijing cannot brush aside the PAC ruling, which is based on the UN Convention on the Law of the Sea that both countries have ratified. The best proof of the soundness of his pivot to China is the start of Beijing's adherence to the ruling of a court backed by the United Nations. As things stand, the Philippines is looking like the loser in the arbitration case. Adherence to the ruling will be the best basis for enduring friendship between the two countries.