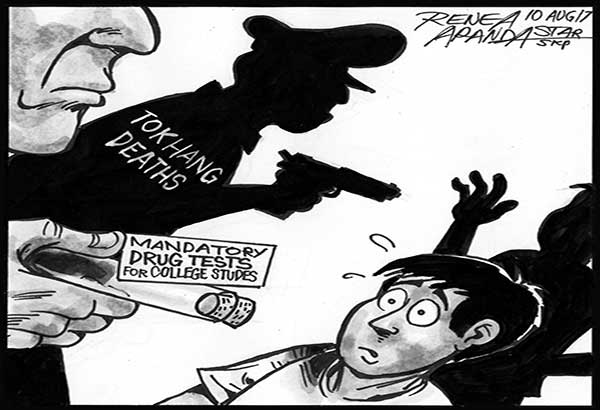 EDITORIAL - The road to hell
(The Philippine Star) - August 9, 2017 - 4:00pm
Schools must do their part in fighting the drug menace. Under normal circumstances, screening students for drug abuse is a reasonable measure. Under the extraordinary circumstances that have prevailed in this country for a year now, however, school administrators and education officials must bear in mind that this measure could turn into a death sentence.
This is no exaggeration. Drug-related killings continue, and many of the recent fatalities had registered under Oplan Tokhang and its expanded version, Double Barrel. If college students test positive for drug abuse, will they also be marked for execution?
A student organization has expressed concern over the recent order of the Commission on Higher Education, which gave higher education institutions the discretion to conduct mandatory and random drug testing on college students. HEIs can implement this only after consulting their students.
The high school and college years are usually the adventurous phase of students, during which they are open to trying almost anything for experience or simply for the fun of it. It doesn't necessarily mean that they will be hooked on drugs or will start pushing. But such students could test positive for drug use.
Even for students with a real drug abuse problem, the answer is not punishment by the school or society, but an effort to address the cause of their habit and to rehabilitate them. Drug abuse is a social and health problem whose cure calls for so much more than law enforcement. If Oplan Tokhang had been implemented in the United States, Apple co-founder Steve Jobs, a known user of the hallucinogenic drug LSD, might not have lived long enough to give the world the iPhone and iPad.
Schools can conduct drug tests if they can guarantee that the results will be kept strictly confidential and the objective is rehabilitation. HEIs are also within their right to protect students from drug pushers in their midst. But this is a measure that must be resorted to with great caution in the time of Oplan Tokhang. The intention may be good, but we must not forget what paves the road to hell.