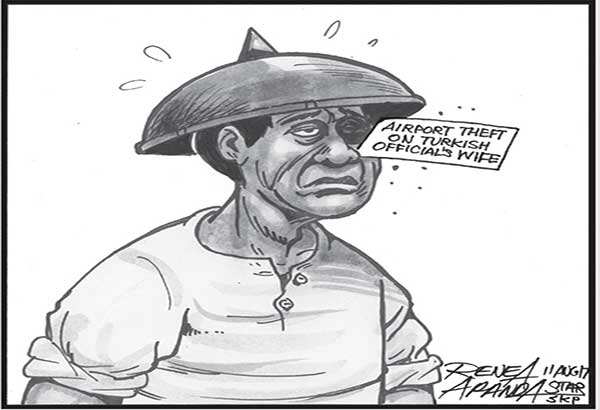 EDITORIAL - Thievery at the NAIA
(The Philippine Star) - August 10, 2017 - 4:00pm
Will national embarrassments ever end at the Ninoy Aquino International Airport? As if the daily congestion, flight delays and long lines at immigration counters weren't enough, the wife of a visiting foreign dignitary has been robbed at the NAIA Terminal 1.
Turkish Foreign Minister Mevlut Cavusoglu and his wife Hulya were in Manila for the ministerial and other meetings of the Association of Southeast Asian Nations. Upon returning to their country, Mrs. Cavusoglu discovered that the jewelry box she had placed in her luggage had disappeared. The jewelry box contained three gold rings with diamonds and pearls, three sets of pearl earrings and a gold bracelet with diamonds.
The only positive aspect of this story is that the missing items were found – in the NAIA 1 locker of a baggage loader of the Miascor Ground Handling Corp. Now under investigation are baggage handlers Yves Ronald Baguion, Wilson Mataganas, John Andrews Racoma and a certain Alfaro.
After this theft, those responsible for bullet planting or tanim-bala seem to have more finesse. President Duterte must ensure not only that appropriate sanctions are imposed on the perpetrators but also that the thievery will not be repeated.
The NAIA is just starting to recover from its tag as one of the world's worst airports. The airport has come to symbolize the status of the country as a regional laggard in many aspects of development. While neighboring countries are competing for the honor of having the world's best airport, the NAIA often seems to be in competition for being the worst.
As ASEAN chair and host of this year's regional meetings, the Philippines is uniquely placed to promote its assets, especially the hospitality of its people. The ASEAN meetings were supposed to provide an opportunity for showcasing the best of the country. Thievery in the country's premier gateway is putting the nation's worst foot forward.