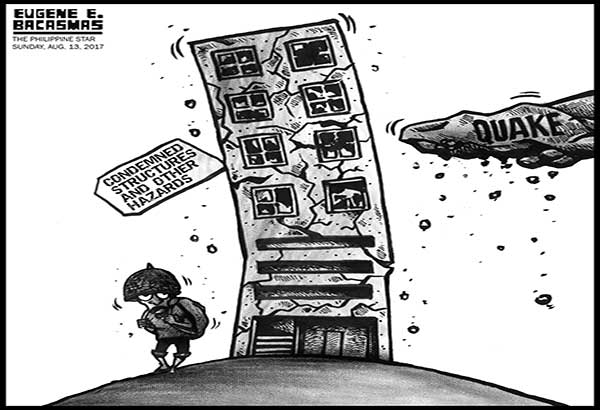 EDITORIAL - A jolting reminder
(The Philippine Star) - August 12, 2017 - 4:00pm
Although the earthquake was strong enough at magnitude 6.3 to cause a scare, no one was injured as the Manila Trench moved the other day. After several drills in the past, people knew enough to leave schools and offices in an orderly way. While the quake ended long after the last of the students and faculty had filed out of many schools, people were also bracing for possible strong aftershocks that fortunately did not occur.
So far, so good… but earthquake preparedness calls for more than going out into the open to avoid falling debris. Countries along the so-called Pacific Ring of Fire can never be over-prepared for a powerful earthquake or volcanic eruption. The hazards posed by the Manila Trench, which runs up to 5,400 meters deep in the South China Sea, is on top of the dangers posed by the West Valley Fault that runs through Metro Manila and nearby provinces, which seismologists have warned is ripe for the "big one," and the Philippine Fault whose movement shook Luzon in 1990.
In previous movements of the Manila Trench, seismologists had warned that it could generate quakes with magnitudes of 7.9 to 8.2 and a tsunami as high as 32 feet that could devastate communities around Manila Bay and Luzon's western seaboard. That's not as strong as the magnitude-9 undersea earthquake off Fukushima in Japan that triggered an apocalyptic tsunami and a nuclear meltdown in 2011. But it's stronger than the 7.7-magnitude quake that struck Luzon on July 16, 1990, leaving over 1,600 people dead.
Despite regular earthquake drills, studies have shown that Metro Manila, the country's most populated region, is poorly prepared for the devastation foreseen in case "the big one" strikes. Although several buildings have been condemned, these have not been torn down, posing hazards in case of a powerful earthquake. Capabilities are extremely limited for putting out fires, rescuing people trapped in collapsed buildings, giving medical attention to the injured, restoring disrupted public utility services and supply chains, and even providing decent evacuation centers.
Last Friday's earthquake fortunately left no one injured. But it should serve as a jolting reminder about the ever-present danger posed by earthquakes. There's still much that can be done in terms of minimizing injuries, death and destruction when a powerful quake strikes.