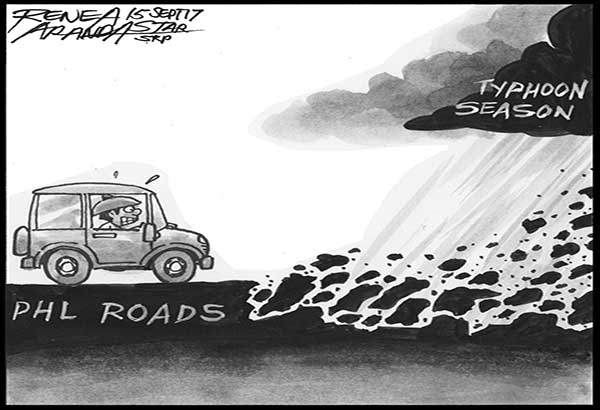 EDITORIAL - Substandard roads
(The Philippine Star) - September 14, 2017 - 4:00pm
Perhaps the floodwaters came rushing in torrents, and the asphalt pavement didn't stand a chance. Still, storm Maring was no Ondoy, and it's amazing to see how easily that road in Barangay Kalubkob, Silang, Cavite broke apart during a flashflood earlier this week.
Images of Batas Road in Kalubkob showed the asphalt pavement in chunks. Many other areas in Southern Tagalog, Central Luzon and Metro Manila were inundated when Maring struck, but no other asphalt pavement suffered the same fate. This inevitably raises questions about the quality of the road.
President Duterte often says his other priority in governance, apart from fighting the drug menace, is to curb corruption. He might want to take a look at the quality of roads as an indicator of good governance.
Studies conducted by several organizations such as the World Bank have shown that road projects are among the largest sources of corruption, particularly in developing countries. Roads in these countries are designed to be substandard so that they have to be torn up and repaired as often as possible, at the expense of taxpayers, but to the benefit of public officials who receive kickbacks per project.
Lawmakers and local government officials, working in cahoots with those in charge of road construction and maintenance, are among the most notorious offenders. President Duterte is familiar with public works projects and can inspect the quality of roads in certain areas around the country. Even a perfunctory look will give him a clue about which roads are designed to disintegrate in a downpour and used as milking cows.
Such practices can be discouraged by improving accountability. The government personnel in charge together with contractors and companies must be clearly identified in every road project to make it easier to pinpoint responsibility for the quality of the pavement.
It is no coincidence that countries that rank high in terms of transparency and good governance also have smooth, durable, top-quality road networks. Corruption takes away billions in public funds that can otherwise be used for worthy projects. President Duterte should start cracking the whip.