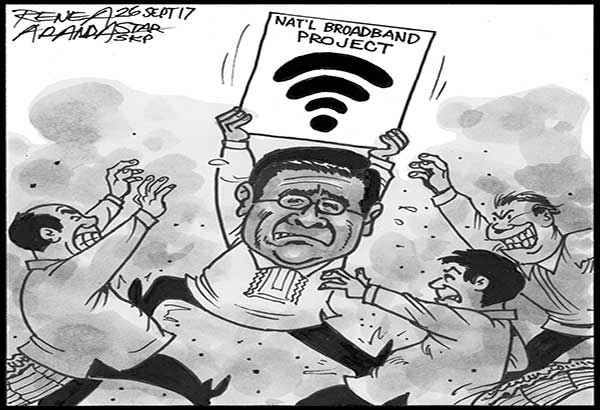 EDITORIAL - Salalima's lament
(The Philippine Star) - September 25, 2017 - 4:00pm
Businessman Mark Taguba estimates that he has paid P92 million so far in "tara" or grease money to Bureau of Customs officials led by former commissioner Nicanor Faeldon. The resigned BOC chief has denied allegations of corruption.
At the Department of Information and Communications Technology, Rodolfo Salalima resigned irrevocably earlier this month. Bidding goodbye to DICT employees last week, he complained of corruption and interference in his work, which he said was contrary to his deal with President Duterte when he accepted the DICT post 14 months ago. Salalima said he resisted "pressure" and rejected requests for favors.
Salalima may have no appetite for picking a fight with individuals who are in a position to exert pressure on a Cabinet member. But he will do the nation a service if he provides more clarity in his complaint. Or perhaps Malacañang can talk to him to find out more details, and disclose at least some of the information to the public.
Even more important, action should be taken against those who engaged in graft or proposed corrupt acts or tried to interfere in decision making when Salalima headed the DICT. His resignation has been linked, among others, to pressure from certain suppliers in connection with the revival of the national broadband project for the government, estimated to cost P77.9 billion.
President Duterte has said that together with drug trafficking and terrorism, he considered corruption as one of the worst scourges of the nation. He has already concluded that the Bureau of Customs is "rotten to the core" although he vouched for the integrity of Faeldon. The President might want to delve deeper into the complaint of his schoolmate Salalima. They may want to protect the identities of certain individuals. But if the President means business in his anti-corruption campaign, there must be action on Salalima's lament.