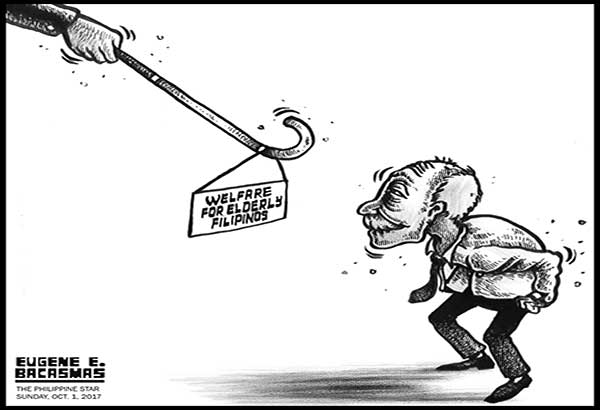 EDITORIAL - Guides toward progress
(The Philippine Star) - September 30, 2017 - 4:00pm
Humans are not yet approaching the 969 years of Methuselah in the Old Testament. Still, lifespans have become longer around the world, thanks to advances in medicine and healthier lifestyles in this modern age.
This coming week is dedicated to the nation's elderly. Senior citizens in the Philippines have enjoyed many benefits mandated by law, such as exemptions from the value-added tax on a wide range of goods and services including medicine and health care. Local governments also offer various types of benefits such as free medical services and free entrance in movie houses. Shopping malls provide free parking and priority in payments and even toilet facilities.
The latest measure to promote the welfare of senior citizens is Republic Act 10911 or the Anti-Age Discrimination in Employment Act. The Department of Labor and Employment has released the implementing rules for RA 10911, which prohibits various forms of employers' actions on workers based on age.
Aging populations are posing new advantages and challenges to societies. Having longer productive years is generally good news, but societies must provide the enabling environment to utilize that productivity. Employment and livelihood opportunities designed for people past the regular retirement age are still lacking.
Health inevitably deteriorates with age, and not all individuals can remain productive in the twilight of life. For such elderly, many societies lack the resources to provide assistance. In developing countries including the Philippines, the impoverished elderly are among the most neglected and abused sectors of society. Younger generations of Filipinos are increasingly feeling no responsibility to care for the older members of their family, even if age and illness have debilitated the elderly.
Senior citizens in this country have many reasons to celebrate Elderly Filipino Week. The theme of the celebration is "Nakatatanda: Gabay, Tulay, Kaagapay at Bantay Tungo sa Kaunlaran." But much more can still be done for the welfare of the older members of society. As the theme of the week emphasizes, the elderly serve as guides, bridges, partners and vanguards toward national progress.