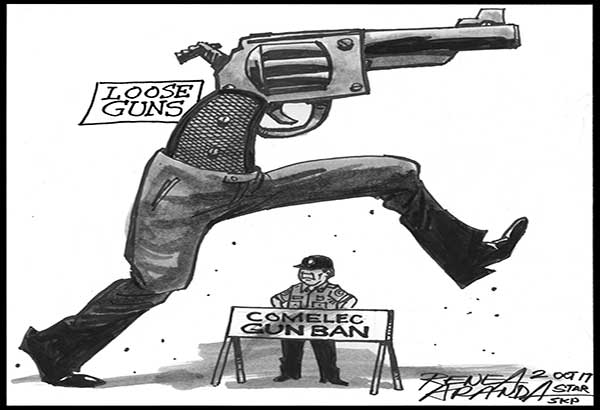 EDITORIAL - Awash with guns
(The Philippine Star) - October 1, 2017 - 4:00pm
Starting yesterday, police checkpoints were set up nationwide as a gun ban went into effect in preparation for the barangay and Sangguniang Kabataan elections later this month. The polls might be postponed anew as President Duterte wants, but in the meantime, the schedule for the election gun ban is being followed.
Even if there is no election period, authorities must improve enforcement of gun laws. Life has become cheap in this country, and one of the reasons is the ease in obtaining weapons, from handguns to top-of-the-line machine pistols, sniper rifles and grenade launchers.
Drug traffickers and other organized crime rings have impressive firepower. Peace initiatives have allowed rebel groups to freely build up their arsenals. The Mautes were so well-armed they managed to engage the Armed Forces of the Philippines for several months in Marawi.
The nation is awash with guns. This has to be among the factors behind the fact that the country has the highest rate of violent crimes in this part of Asia. Philippine authorities are regulating gun possession only among responsible individuals who bother to register their weapons.
There seems to be no appetite for shutting down not-so-clandestine gun manufacturing enterprises in Cebu, and there is even less political will to clamp down on gun smuggling. This could be due to the fact that among the biggest gun smugglers are influential politicians who maintain private armies.
Even before the spike in drug-related killings, drive-by assassinations have been common in this country, especially during elections. The triggermen and masterminds are rarely caught, and the guns used are almost never recovered. The result is an environment that has put the country among the worst in the world in terms of impunity.
Curbing the proliferation of loose firearms should be indispensable in any war on illegal drugs and lawlessness. This must be made clear to agencies involved in law enforcement. And the effort must not wait for election periods to be aggressively pursued.