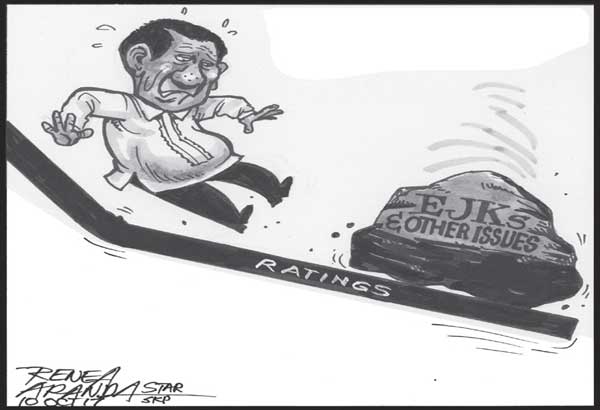 EDITORIAL - 'The love is still there'
(The Philippine Star) - October 9, 2017 - 4:00pm
The honeymoon is over, but the love is still there. This was Malacañang's response yesterday to the biggest slide so far in President Duterte's satisfaction and trust ratings. The President suffered double-digit drops in the third quarter survey conducted by pollster Social Weather Stations Inc. from Sept. 23 to 27.
It may be more accurate to say that the hope is still there, that the President will use his immense powers and popularity to focus on the many pressing matters requiring the attention of his administration. While surveys also show that Filipinos agree with the need to deal decisively with the drug menace, the unrest generated by the methods employed in waging the war is hogging the attention of the government.
Last week, two major business groups, the Philippine Chamber of Commerce and Industry and the Employers Confederation of the Philippines, called for less political bickering and more action on reforms and infrastructure projects. The Joint Foreign Chambers of the Philippines, representing nearly 3,000 companies and members of the private sector, have been pushing for reforms in several key areas to accelerate economic growth.
Recently, employers have also expressed concern over policies that are dampening investments, such as additional contributions to the Social Security System, new rules on private security guards and janitorial services, and an increase in wages when the rates are already the highest in Southeast Asia. The principal consideration, the employers said, must be the creation of jobs by encouraging more investments.
Such sentiments of course must be weighed against the need to promote the welfare and increase the productivity of the workforce. These are matters that need careful consideration, without the distraction of political noise.
Malacañang officials and Duterte's supporters said the slide in his survey ratings was not surprising, and that the numbers could still bounce back. The steepness of the fall, however, is noteworthy. While the presidency is not a popularity game, governance is easier with strong public support. Despite the ratings plunge, the numbers remain high. With proper focus, a downward spiral can be prevented.