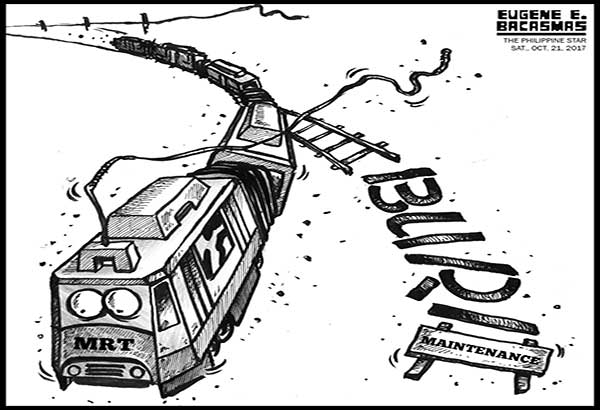 EDITORIAL - Ready for termination
(The Philippine Star) - October 20, 2017 - 4:00pm
After almost daily glitches and the risk of a deadly accident, the government has served notice to the maintenance provider of the Metro Rail Transit 3 that its contract would be terminated. Busan Universal Rail Inc. or BURI was given seven days by the Department of Transportation to explain why its MRT 3 contract should not be scrapped.
BURI is challenging the grounds for the planned termination, which include poor performance, failure to put in service the number of functioning trains specified in the contract, and failure to implement a procurement plan for spare parts for the immediate repair of defective trains.
Even without the notice issued by the DOTr, anyone who takes the MRT 3 regularly knows that the service is deplorable and is a major disaster waiting to happen. The MRT 3 has been hounded since the previous administration with allegations of a $30-million extortion attempt, aggravated by a multimillion-peso sweetheart deal awarded without public bidding to a group with connections to the ruling party at the time. The same personalities accused of turning the MRT 3 into a milking cow are said to be connected to the current maintenance provider.
Former MRT 3 general manager Al Vitangcol III, who faces charges related to the scandal, has named several individuals behind the mess and implicated his former superiors in what used to be the Department of Transportation and Communications. The investigation of Vitangcol's accusations, however, is crawling along at the Office of the Ombudsman.
The situation wouldn't be too deplorable if commuters had more mass transportation options. The MRT 3, however, has become the symbol of the disastrous state of mass transportation in the nation's most densely populated region. Because of few alternatives, commuters wait in long lines for up to an hour during peak periods just to get a ride on the MRT 3, only to be forced to disembark when the service breaks down – which is almost daily.
Those responsible for bringing this vital public transportation facility to its current sorry state must be held accountable. Finding a new maintenance provider is not enough.