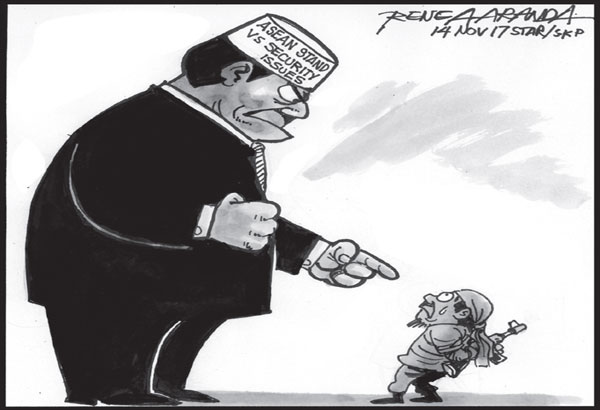 EDITORIAL - Asean cooperation
(The Philippine Star) - November 13, 2017 - 4:00pm
The Association of Southeast Asian Nations is reportedly set to issue a statement of concern over militarization in the South China Sea. The statement, in case it is issued, is unlikely to change the status quo in the disputed waters or stop any military buildup that is certain to affect freedom of navigation and overflight in the area.
For many years now, ASEAN has been trying to hammer out a Code of Conduct in the South China Sea with Beijing, which claims nearly all of the sea. The initiative is moving at glacial pace. Divided, ASEAN has failed to stop China from creating artificial islands with military facilities in disputed waters. The Philippines, winner of an international arbitration case that invalidated China's entire claim over the South China Sea, might yet turn out to be the loser for lack of interest in asserting its sovereign rights. Little progress is expected in this area at the ongoing ASEAN summit.
The 10-member grouping has better chances of moving together in the same direction in other areas. These include addressing climate change and cooperating to stop the spread of terrorism, the drug menace, human trafficking, piracy and other transnational crimes.
Southeast Asia is home to the opium-producing region known as the Golden Triangle, one of the two largest in the world. Weak law enforcement and corruption have also allowed producers and traffickers of other narcotics as well as synthetic drugs such as shabu to thrive. Closer ASEAN cooperation is needed to win this war.
Terrorism influenced by the Islamic State is another threat that could engulf the region. The IS-inspired Mautes and Abu Sayyaf terrorists were neutralized and flushed out of Marawi, but only after five months and the loss of over a thousand lives. IS fighters, killed or booted out of their former strongholds in Iraq and Syria, reportedly continue to aspire to set up a new base in Southeast Asia. Concerted ASEAN action can best thwart such plans.
ASEAN can look back to the past 50 years as a generally peaceful period that allowed its members to develop and prosper and become one of the world's most dynamic regions. Southeast Asia now faces new threats, which are best addressed if the grouping can act as one in implementing decisive and timely responses.