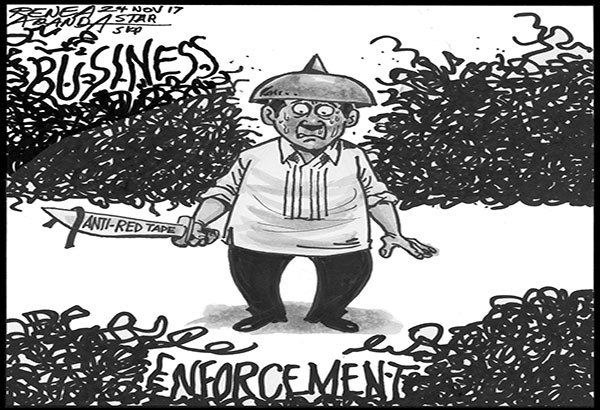 EDITORIAL - A law to cut red tape
(The Philippine Star) - November 23, 2017 - 4:00pm
With President Duterte often saying that he detests corruption and wants red tape eradicated, his congressional allies should speed up the passage of a measure that aims to make it easier to do business in the country.
The House of Representatives recently gave a unanimous formal nod to Bill 6579. Among other things, the measure aims to reduce processing time for business permits and other documents to one working day for barangay units, and three working days for other local government offices as well as national agencies. For "complex" issuances, the processing time will be from 10 to 30 working days.
The bill, approved on third and final reading, also aims to create an Ease of Doing Business Commission, to be headed by government officials and with representatives from micro, small, medium and big business enterprises. All local and national agencies will be required to post in their offices and on their websites the requirements and detailed procedures for securing permits, licenses, clearances and other official documents. Government agencies are advised to set up one-stop shops for such issuances.
The measure is long overdue and will likely be signed into law soon. But the problem, as in most of the laws in this country, is sure to be enforcement. For violators, the House bill proposes penalties ranging from suspension without pay to dismissal and permanent disqualification from holding public office as well as the forfeiture of benefits. Penalizing violators should not remain a best-efforts pledge.
Another likely problem is that investigation and the resolution of complaints will follow the agonizingly slow pace of the country's notoriously inefficient criminal justice system. Seeing no one suffering the penalties of breaking the law, bureaucrats who thrive on red tape will have little incentive to mend their ways. This measure will work best only if it is matched by similar reforms in the justice system.