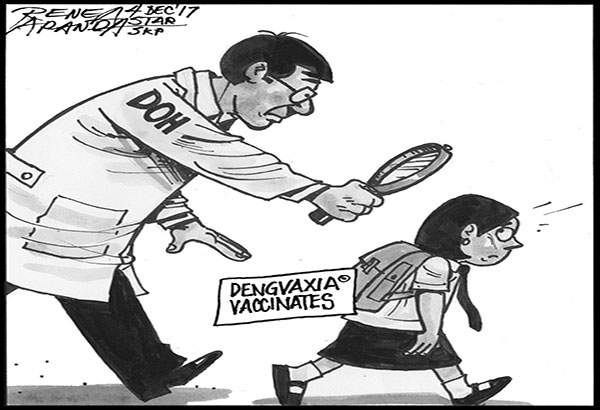 EDITORIAL - A vaccine gone awry
(The Philippine Star) - December 3, 2017 - 4:00pm
Congress and the Department of Justice have set investigations, but both will have to rely on information from health experts as a review and more research are conducted on the safety and efficacy of a vaccine against dengue.
Pharmaceutical giant Sanofi Pasteur launched Dengvaxia as a vaccine against the mosquito-borne viral disease that infects an average of 390 million people worldwide every year. People in warm countries including the Philippines face the highest risk. The country was among the first to use Dengvaxia on children at least nine years old.
Late last month, however, Sanofi itself, after analyzing long-term clinical trial data, announced that Dengvaxia worked only on those who have already suffered dengue. Those without a history of the disease face risks including greater vulnerability to infection. A statement from Sanofi said the long-term trial results highlighted "the complex nature" of dengue infection as it proposed a "label update" on the use of the vaccine.
Former health secretary Janette Garin, under whose watch P3.5 billion worth of Dengvaxia was procured by the government, said this was done in accordance with World Health Organization guidelines and with the vaccine cleared by the country's Food and Drug Administration. Since last year, 733,713 children have been vaccinated by the Department of Health in Metro Manila, Central Luzon and Calabarzon. The DOH says about 70,000 of the children have no history of dengue and are therefore at risk.
Whether ongoing investigations will hold certain former officials liable for the mess, attention must be focused on any adverse effects that might be suffered by children with no history of dengue who have received the vaccine. Health professionals must work with school authorities and local government personnel for close monitoring of potential complications. With the risk identified, every effort must be made to protect the children from the consequences.