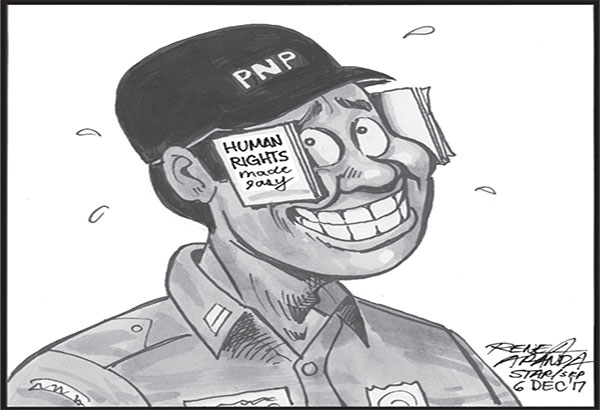 EDITORIAL - Back in the war
(The Philippine Star) - December 5, 2017 - 4:00pm
As the chief of the Philippine National Police had been saying for several weeks, the PNP returned to the war against illegal drugs starting yesterday. This time, however, in accordance with the Comprehensive Dangerous Drugs Act of 2002 or Republic Act 9165, the Philippine Drug Enforcement Agency is keeping its lead role in the war, with the PNP providing "active support," according to Malacañang.
The setup should help prevent the gross police abuses that led to the pullout of the PNP from the war on drugs, for the second time since last year. In both instances, no one expected the PNP to stay out of the war for good. This time, however, with the PDEA serving as the lead agency as mandated by law, some refinements might be injected into the way the war is waged.
PNP officials had earlier said they had learned their lessons and promised to avoid the mistakes and excesses of Oplan Tokhang and Double Barrel Reloaded. The other day, the PNP launched a program that aims to make police personnel aware of human rights. Each cop is required to have on his or her mobile phone an application providing the PNP manual on the human rights of suspects who are arrested, detained or under custodial investigation.
The launch of the PNP's "Know Your Rights" app coincided with this year's observance of National Human Rights Consciousness Week, whose theme is "Stand Up for Someone's Right Today." Downloading the app is not enough; PNP officials must see to it that the manual is read and understood by its members, particularly those who will be fielded in the war on drugs.
The law allows the PNP to apply a reasonable amount of force in the interest of public safety. This, however, is not a license for abusive behavior, which can only erode public support for any campaign against criminality.