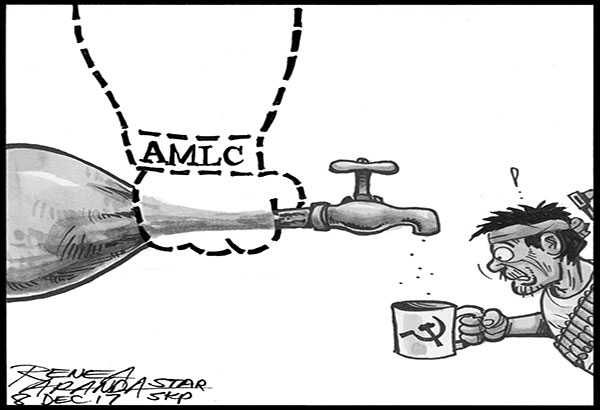 EDITORIAL - Cutting off funding
(The Philippine Star) - December 7, 2017 - 4:00pm
Terrorism, insurgency and organized crime need funds – lots of it. Cutting off funding is therefore one of the most important weapons against illegal activities. This week the government approved tighter rules that will enhance detection of dirty money used for acts of terrorism as well as drug trafficking, kidnapping for ransom, hijacking, arson and murder.
The Anti-Money Laundering Council had been pushing for some time for tighter registration and reporting guidelines on suspicious transactions. Among those covered by the rules are banks, securities dealers and insurance companies. AMLC officials said penalties imposed in accordance with due process would encourage compliance. The covered entities will be allowed to use new tools to know more about their clients and determine if dirty money is being laundered or used for terrorist financing.
Besides the AMLC, the Bureau of Internal Revenue can help go after violators of those predicate crimes through their tax payments. Local governments and law enforcement agencies can pinpoint suspicious individuals to the BIR for possible investigation and indictment for tax evasion.
The country can be assured of support from the international community in cutting off terrorist financing. The Philippines came close to being blacklisted by the Paris-based Financial Action Task Force because of the exclusion of terrorism from the crimes covered by the country's anti-money laundering laws. It took years before terrorism was included in the offenses covered by the Anti-Money Laundering Act, with opposition coming mostly from individuals and groups sympathetic to the communist movement. Now that the anti-money laundering police is being given more teeth to help fight terrorism and other crimes, it must make full use of the weapons.