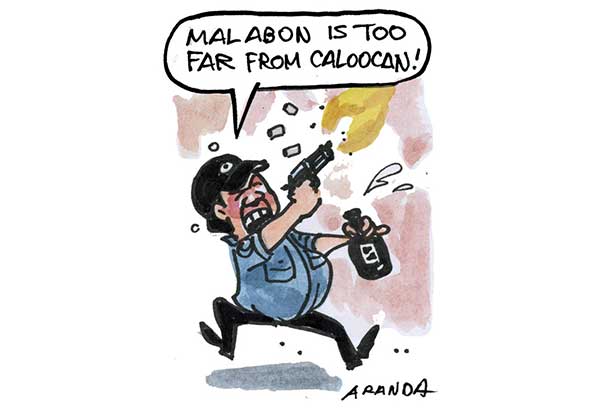 Sacked Caloocan cop runs amuck
Rey Galupo
(The Philippine Star) - September 25, 2017 - 4:00pm
MANILA, Philippines — Unhappy with his reassignment to Malabon, one of the sacked Caloocan policemen went on a rampage in a bar.
Police Officer 2 Reggie Nueva Espana was arrested Sunday afternoon after reportedly firing his gun and hitting a man inside a bar in Camarin, Caloocan City early that morning.
Espana, resident of Barangay 176, Bagong Silang, was previously detailed at the police community precinct 5 in Camarin.
Caloocan City assistant chief of police Chief Insp. Ilustre Mendoza said Espana was drinking inside a bar along Zabarte Road in Cielito Homes Subdivision when he suddenly pulled out a gun and fired several shots without provocation, grazing Ricky Donato on the legs.
Donato reported the incident to a friend from the Counter Intelligence Task Force (CITF) at Camp Crame, which later led to the suspect's arrest by CITF operatives in front of Zabarte Town Center during a follow-up operation.
The complainant also recovered one empty shell which he turned over to the CITF.
Witnesses said Espana was a troublemaker in the area but he was extremely mad when he went to the bar last Saturday night, according to Mendoza.
A colleague said Espana might have been bothered by his transfer because Malabon is far from north Caloocan where he lives.
"But that is not a good reason to go wild. We can be reassigned anywhere and that's not for us to question the wisdom of the leadership of the PNP," he said.
It is an open secret at the Caloocan police station that a lot of personnel are disgruntled by their reassignments, but no one has openly criticized National Capital Region Police Office chief Director Oscar Albayalde on the movements.
"We are like soldiers. We follow first before we complain," a ranking police officer said.
Espana was among the first batch of policemen from Caloocan who were relieved after Albayalde ordered the entire station's revamp following the spate of controversial killings of minors in the city.
Only chief of police Senior Supt. Jemar Modequillo and Mendoza were reportedly spared from the revamp.
Malabon chief of police Senior Supt. John Chua said Espana is not officially included in the new batch of policemen who were reassigned to his station because he has not reported yet.
"And if ever, we will request the (Northern Police District) to nullify his transfer here. We don't want another bad egg destroying the image of the Malabon police," Chua told The STAR. – With Cecille Suerte Felipe