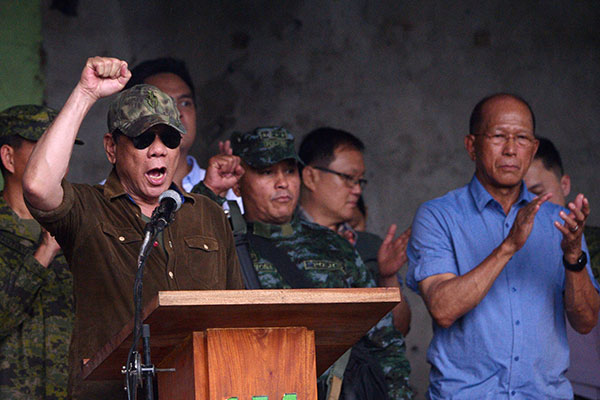 Philippines President Rodrigo Duterte (L) raises a clenched fist, as he shouts declaring Marawi "liberated" during a ceremony inside the battle area of Bangolo district in Marawi on October 17, 2017. Philippine President Rodrigo Duterte on October 17 declared a southern city "liberated from terrorists' influence" but the military said the five-month battle against militants loyal to the Islamic State group was not yet over. Ted Aljibe/AFP
WATCH: Duterte says communists, Islamic militants are next after Marawi liberation
(philstar.com) - October 18, 2017 - 6:19am
MANILA, Philippines — President Rodrigo Duterte is setting his sights on Communist rebels and Islamic militants in Basilan and Jolo after the liberation of Marawi from the Maute terrorist group.
Marawi, the capital and largest city of Lanao del Sur province in Mindanao, has been severely devastated after the Maute group, which claims allegiance to the Islamic State, laid siege to it last May 23.
The military estimated that around 1,000 people have been killed including at least 847 militants.
The group's two key leaders have been slain and their numbers have dwindled, prompting Duterte to declare Marawi liberated.