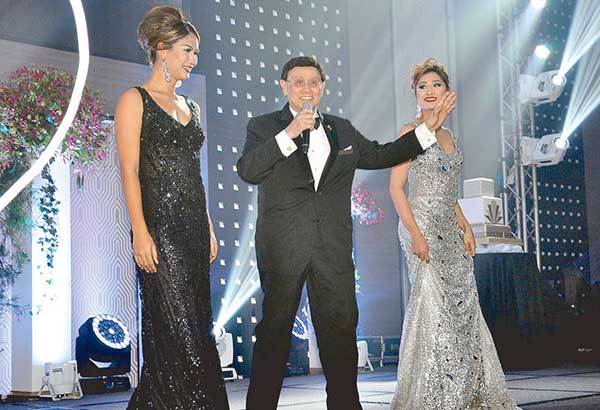 Your columnist welcomes guests to a splendid evening of High Society.
Oh yes, it's High Society!
OH YES, IT'S JOHNNY!
-
Johnny Litton
(The Philippine Star) - September 13, 2017 - 4:00pm
Every year, I like to think of my birthday as an opportunity to show gratitude to the people in my life, and my recent celebration held at the newly renovated Grand Ballroom of The Bellevue Manila was no exception. Aptly themed High Society, based on the iconic 1956 musical film, the event had female guests arriving in their stunning Grace Kelly-inspired frocks while the men looking dapper in their crisp designer suits.
I had a delightful time welcoming my longtime and newfound friends from the government, diplomatic, social, art and business circles, and seeing leaders from different political backgrounds and perspectives coming together for a night of love, friendship and celebration.
The sparkling evening included musical performances by Jose Mari Chan, Janet Basco, Arthur Manuntag and Kathy Mas, a dance number by Grace Gobing and a grand finale by Club Mwah. A special ceremony was also held to award the evening's "Stars of the Night," which included Dr. Minguita Padilla, Fanny Serrano Elite Salon owner Ross Licup, Tina Jacinto, Crystal Jacinto, Paqui and Lilibeth Campos and Joy Rustia.
The evening would not have been a success without the hardworking team of The Bellevue Hotels & Resorts (BH&R) led by chairman Johnny Chan and his sons, BH&R managing director Patrick Chan, B Hotels managing director Ryan Chan and The Bellevue Bohol Resort managing director Dustin Chan.
Guests were treated to delectable wines from Tita Trillo's Titania Wines and giveaways from Rustan's, Aficionado-Perfumes and Personal Care, Beabi and Laneige. Special thanks to the official TV partner that night, 2nd Avenue.
When I look back at the life I have lived, what stand out to me are the relationships I have built with the many wonderful friends who have shared my journey. Thank you to everyone who came to celebrate with me — I'll see you all in the years to come!