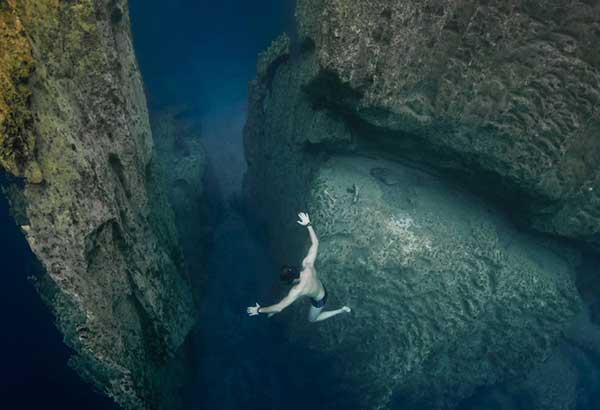 Guillaume Nery dives deep into Baracuda Lake in Coron, Palawan. Catalin Craciun
MANILA, Philippines - "We breathe without thinking about it. But when you breathe with consciousness, you can control it," says Guillaume Nery, one of the most popular freedivers in the world. "It's like meditation. You connect deep inside of you. You forget about the time, about your normal life. It's like you have another life for a few minutes and then when you breathe again, you feel new, fresh, happy," he says.
Guillaume, together with his wife and fellow freediver Julie Gautier and daughter Mai-lou, are currently in the Philippines, traveling to freedive hotspots in Mactan, Cebu; Moalboal, Bohol; and El Nido and Coron in Palawan to support the Department of Tourism's bid to make the Philippines the Freediving Capital of Asia.
Undersecretary for Tourism Development Benito Bengzon Jr., who is an open water diver himself, welcomed Nery enthusiastically, pointing out the Philippines' unique and rich marine biodiversity, being in the center of the Coral Triangle.
At the beginning it was just like a game, a challenge with a friend and I discovered I was able to hold my breath much longer than a normal teenager," says Nery, who started training at the age of 14. Luckily, the only freediving club in France at that time was located in Nice, his hometown.
"I met Claude Chapuis and he is still my mentor," Nery acknowledges. "He taught me everything."
Years of training has led Nery to be able to hold his breath up to eight minutes underwater. The 35-year-old Frenchman – whose affinity with the water is both athletic and poetic – is a two-time world champion and has achieved multiple world records. In 2002, he became the youngest freedive record holder, diving to a depth of 87 meters. He is also the president of the Centre International de Plongee en Apnee (International Deep Diving Center) and a teacher, conducting trainings all over the world.
Nery has also become somewhat of a rockstar in his field, creating short films of life underwater. Perhaps even more impressive, it is his wife Julie who is behind the camera – shooting their scenes while also freediving herself.
The images Guillaume and Julie come up with are completely surreal. In a film entitled Narcose, the husband and wife tandem recreate hallucinations that Guillaume experiences when his body reaches a state of narcosis due to the extreme pressure deep underwater. The images go back and forth from animated monsters, to an underwater wedding, to the image of a naked Julie, heavily pregnant with their daughter – floating in the water as if she herself were the fetus.
Other films showcase the beauty and mystery of the underwater world. Ocean Gravity, for example, makes Guillaume seem like he is floating around in outerspace, exploring an alien planet. "I wanted to be an astronaut... Obviously I did something wrong," Guillaume shares with a laugh. Instead, he dives deep into the ocean, revealing a fascinating underwater world.
Julie and Guillaume's short films, all available online, were recently noticed by musician/DJ Naughty Boy, who got them to shoot the mesmerizing music video for Runnin' (Lose it All) featuring Beyonce.
This expedition marks Guillaume's second time to give workshops in the Philippines. "It's a great experience with people coming from all over Asia," he says, listing participants of all levels from Korea, Malaysia, Singapore, as well as those from a growing local freediving community. "It's nice to see all the different cultures and all of them were very happy to learn a new technique."
Describing the recently-concluded Mactan workshop, Guillaume says, "We spent three full days doing breathing and yoga in the morning, then open water sessions, then some theory in the classroom to explain a little bit more about the training, about the philosophy and another open water session in the afternoon. Very intense, but always great."
During this trip, the Nerys will make a special stop in Davao to interact with the Badjaos, the Philippines' indigenous group known as "sea gypsies" for their natural ability to freedive.
"In the first workshop I had in the Philippines two years ago, I met a guy who was very close to the Badjaos," Guillaume recalls. He was even given a pair of Badjao wooden goggles as a souvenir.
"I really want to see and experience their way of diving and to approach the marine life there. The way they are in the water and the way they are moving, it's like it's in the genes. It's something they've always had. I can't wait to experience this."
Going back to his mission of strengthening freediving in the Philippines, Guillaume has several recommendations for the country to become a leader in Asian freediving: "Learn with the good people because if you know how to do the sport in a safe way, with a good approach, you have a better chance to attract people... It's important to be sure that all the safety is there."
He adds, "Freediving is also linked a lot with ocean preservation. When you are a freediver, you can see the ocean, you interact with the marine life. You don't disturb the nature. The development of freediving has to go along with the development of the protection of the ocean. If we have a sustainable way of thinking for the next generation, the magic of the Philippines and of the underwater will still remain."