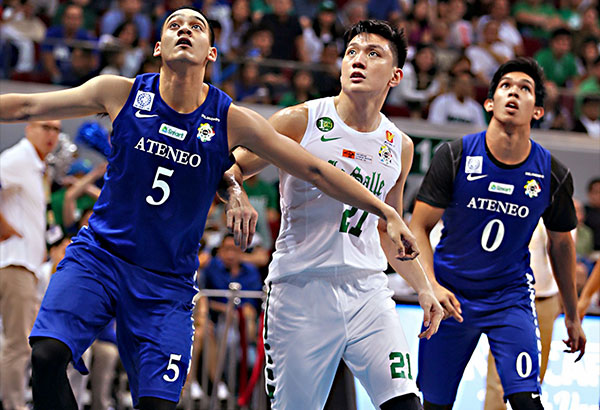 Blue Eagles Manuel Tolentino and Thirdy Ravena of Ateneo brace for a rebound with Green Archer Jeron Teng. JOEY MENDOZA JR.
Tab, Ayo appeal for right calls in series
MANILA, Philippines – The opposing coaches in the UAAP senior men's basketball finals are pleading for the referees to make the right calls in Game 2 of the best-of-three series after La Salle blew a 15-point lead to eke out a 67-65 decision over Ateneo in the opener at the MOA Arena last Saturday.
Game 2 is set at the Smart Araneta Coliseum this Wednesday and a packed house is expected as the Green Archers attempt to clinch the Taft school's ninth UAAP championship. A crowd of 16,712 jammed the MOA Arena for Game 1 which went down to the wire.
Blue Eagles coach Tab Baldwin said the referees missed a foul on Thirdy Ravena with Ateneo ahead, 65-64, time down to less than 30 seconds. Attacking Kib Montalbo on a one-on-one situation, Ravena was stripped of possession by La Salle's Man of Steal. The turnover led to Jeron Teng streaking for a layup to give the Archers back the lead, 66-64, with 15 ticks left. Teng then blocked Aaron Black's jumper and Montalbo closed out the scoring with a free throw.
Montalbo was fouled with 3.3 seconds remaining and went to the line for two shots. He missed the first charity and got the call from coach Aldin Ayo to flub the second as the Eagles had no time out left. Montalbo miscalculated the second shot which went in but inbounding from the far endline, Ateneo couldn't get off a decent try as Adrian Wong's mid-court heave fell off-target.
"I expect referees to make the correct calls," said Baldwin. "When they don't, they need to be called out." Baldwin, however, credited La Salle for the hard-earned win which snapped Ateneo's seven-game winning streak in the finals dating back to Game 3 of the UE series in 2009. The Eagles swept FEU in 2010 and 2011 and UST in 2012 so they entered this season with seven straight finals wins from seven years ago.
Ayo also appealed for justice. He pointed to an incident with 5:11 left in the fourth period where Chibueze Ikeh clearly elbowed Jason Perkins and Thomas Torres, leaving both on the floor, and got away with both swings. Ikeh played a key role for the Eagles, hitting six of his eight points in the fourth period, and finished with four fouls. La Salle assistant coach Louie Gonzales said there were at least four other questionable situations.
Baldwin got an early warning for accosting the referees but never got a technical. Ayo said he respects Baldwin as a former Olympic and Philippine team coach but wondered why he has to resort to haranguing referees, players and coaches. Ayo accused Baldwin of trash-talking and appealed to him "to just stick to coaching."
The tension of the game led to an exchange of harsh words between La Salle and Ateneo supporters late in the third quarter. Batangas Vice Governor Mark Leviste charged out of his seat and claimed he was provoked by an Ateneo assistant coach who dared him to step down from the stands. "Sila ang nag-hamon at hindi naman kami aatras," said Leviste who later apologized for the flare-up.
A La Salle source said an Ateneo assistant coach flashed his middle finger at Ben Mbala and La Salle team manager Terry Capistrano during the commotion. That led to a heated war of words between La Salle supporter Dave Dichupa and Ateneo assistant coach Gabby Severino. Ateneo team manager Epok Quimpo and La Salle team manager Raffy Villavicencio quickly intervened to diffuse the tension.
La Salle got off to a sizzling 17-2 start even as Mbala failed to score in the first period, saddled with two early fouls. But slowly, Ateneo came back to knot the count, 52-all to end the third quarter. The Eagles tasted their first lead, 65-64, on Matt Nieto's bank shot but Teng countered with a layup off a daring slash to put La Salle back on top for good.
Former La Salle and Ateneo players were all over the arena to witness the action. The list included Von Pessumal, Almond Vosotros, Nico Salva, Ryan Arana, Chris Tiu, L. A. Revilla, Frank Golla, Francis Zamora, Larry Fonacier, L. A. Tenorio, Poy Erram and Tito Panlilio. Also in the audience were US Ambassador Sung Kim, Manila Mayor Joseph Estrada, Philippine Stock Exchange chairman Jose Pardo, special envoy to the US Babe Romualdez, PSC chairman Butch Ramirez, former Ambassador Joey Cuisia, businessman Michael Escaler, shipping magnate Arben Santos, Philippine Chamber of Commerce and Industry president George Barcelon, former Rep. Hermie Aquino, restaurateur/mining executive Jack Rodriguez, Johnny Air Cargo CEO Johnny Valdez, actor Edu Manzano, showbiz figure Randy Santiago and RCBC president Gil Buenventura. San Miguel Corp. chairman Eduardo Cojuangco, Jr. led the La Salle contingent while PLDT CEO Manny V. Pangilinan headed the Ateneo corps.
After the win, Ayo said it's back to practice for La Salle the next day. "Nothing to celebrate," said Ayo. "We've got three days to prepare for Wednesday. Ateneo is a tough team and we need to stay focused. To win Game 2, everyone has to contribute, no one can be missing. If we play as a team, we'll end it on Wednesday."
Black was the only Eagle to score in double figures, winding up with 12. His father Norman couldn't watch the game as he was at the Big Dome coaching Meralco to a 106-93 win over NLEX in the PBA.
Mbala compiled 20 points and 15 rebounds but was disappointed with his 4-of-13 field goal shooting and five turnovers. He took five medium-range shots and missed them all. Mbala also flubbed six free throws. "They're bumping me, holding me down and I'm hoping for a call," he said. "But I know I have to do a better job of releasing when they double or triple team." The Eagles rotated Ikeh and Isaac Go on Mbala with both centers ending up with four fouls apiece.
The day before Game 1, the Archers checked in at the Golden Phoenix Hotel near the MOA Arena. Ayo did the same thing with Letran when he piloted the Knights to the NCAA title last season. On the morning of Game 1, the Archers attended Mass at the hotel. They were psyched up for the win.