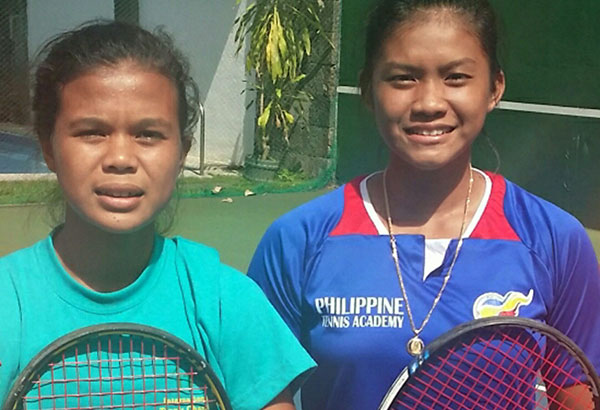 Khim Iglupas (left) and Shaira Rivera.
Teen netters make big strides
MANILA, Philippines – There appears to be no stopping Khim Iglupas and Shaira Rivera in their campaign to take world tennis by storm. Both teenaged Philippine Tennis Academy (PTA) protégés recently made waves in the two-leg ITF Grade 4 U18 championships here. They're looking forward to playing either in the US or the UAAP after graduating from the De La Salle Zobel Night School.
Iglupas, 18, is in Grade 11 and has offers to play for the senior varsity of Ateneo, La Salle, UST and NU. But if she passes the SAT, Iglupas said it's her dream to play in the US. PTA 's prime mover Rommie Chan is preparing Iglupas for her SAT and for this Star interview, encouraged her to answer in English. Iglupas lives in Chan's Ayala Alabang home which is in the same village as her school.
"Jennifer Saret has talked to me about enrolling in Ateneo while Roland Kraut asked me to go to La Salle," said Iglupas, ranked No. 103 in the ITF U18 division. "Right now, I'm focused on finishing my studies at Zobel. I leave my future up to Tito Rommie. In school, my favorite subject is Math. I do well in PE (Physical Education) and TLE (Technology and Livelihood Education) but Math is the challenge."
At Zobel, Iglupas attends class from 4 p.m. to 9 p.m. Monday to Friday. Before going to school, she works on her game. Iglupas wakes up early to jog at 6:30 a.m. and works out on the court from 9:30 a.m. to 1 p.m. In between, if there's time, she hits the gym for conditioning drills. It's a regimen she's followed diligently since moving from Bukidnon to enrol at Zobel.
Last May, Iglupas made her debut with the Philippine team at the Federation Cup in Thailand and was undefeated in four singles matches. She joined Katharina Lehnert and Clarice Patrimonio in powering the Philippines to a sweep of five ties in Group 2 of the Asia/Oceania zone. The Philippines is now back in Group 1 after a 10-year absence. But Iglupas said she may not be on the team for Group 1 action in Astana, Kazakhstan, this February.
"If we send only three players, Katharina and Clarice will go with Marian (Capadocia)," said Iglupas. "I'm ranked No. 4 behind them. If they send four players, I hope to get a chance to play. I know the opposition is tougher in Group 1." China, Thailand, India, Japan, Kazakhstan, Korea and the Philippines are bracketed in Group 1 and only the winner of the round-robin series will advance to the World Group 2 playoffs.
This year, Iglupas won two singles ITF Grade 4 junior titles. Last January, she downed Cherry Kim, 6-3, 6-1, for her first crown in Hong Kong and a few weeks back, disposed of Rika Tanaka, 6-0, 6-1, for her second to earn 40 ITF points at the Philippine Columbian Association (PCA) courts. She also teamed with Lee Kuan Yi to beat Tanaka and Risa Fukutoku, 6-2, 6-7, 10-7, for the doubles championship in the ITF tournament at PCA.
The oldest of five children, Iglupas learned to play the game at the age of six on two hardcourts 10 minutes away by tricycle from her home. Her father Jeffrey, a welder, and her mother Ruth, a beautician, never wavered in supporting her tennis dream. Her father used to play tennis but has converted to badminton. An uncle Sonny taught her how to play.
Despite her two ITF wins this year, Iglupas said her best showing was in a Grade B1 event in Pune, India, last May. She lost to India's Pranjala Yadlapalli, 2-6, 6-4, 6-2, in the semifinals but on the way, eliminated India's Shrivalli Dhamidipaty, China's Zhima Du and Japan's Naho Sato. Iglupas said the quality of opposition in India was the highest she's ever faced.
"My focus is to work harder," said Iglupas who trains under Jun Toledo and Ken Salvo. "I want to be more consistent with my power serve and more confident in my first serve. I'm comfortable playing the baseline but I also want to be more aggressive in attacking the net." Iglupas said her all-time favorites are Rafael Nadal and Li Na. With a little luck, she may be able to crash barriers and captivate the tennis world like her idols.
Rivera, 17, is in Grade 11 at Zobel like Iglupas and also stays in Chan's home. Last year, she earned the lone girl's ticket to represent the Philippines in the WTA Future Stars tournament in Singapore. Rivera said she'll never forget the event which was graced by Maria Sharapova and Li Na, her idols.
The youngest of three children, Rivera learned to play at the Oroquieta courts in Misamis Occidental at the age of nine. The courts are right behind the house where she grew up. Her father Rex is a policeman while her mother Doniebel a housewife. A sister Faith Abigal is a professional singer.
In the first leg of the ITF Grade 4 U18 tournament here last month, Rivera ousted the US' Jordan Harris, 7-5, 7-5 and Hong Kong's Mia Wong, 6-1, 6-1, before bowing to Lee Kuan Yi, 6-2, 6-2, in the quarterfinals. She said the showing was her best singles finish so far. Last June, she teamed with Iglupas in reaching the doubles semifinals at an ITF Grade 4 tournament in Thailand.
"Tito Rommie always reminds me that in international tournaments, I have nothing to lose and I should just play my game," said Rivera in Pilipino. "Sometimes, I lose my confidence when I see opponents who are 6-2 and 16 years old and I'm only 5-4. I know I have to be positive and blank negative thoughts. Mental focus is what I'm working on."
Someday, Rivera said she hopes to make it to the Federation Cup like Iglupas. "With God's help, I can play for a US school," she said. "At the moment, my goal is to finish my studies at Zobel. If I'm not able to go to the US, I'll play in the UAAP. After college, I plan to get a job that is related to tennis."