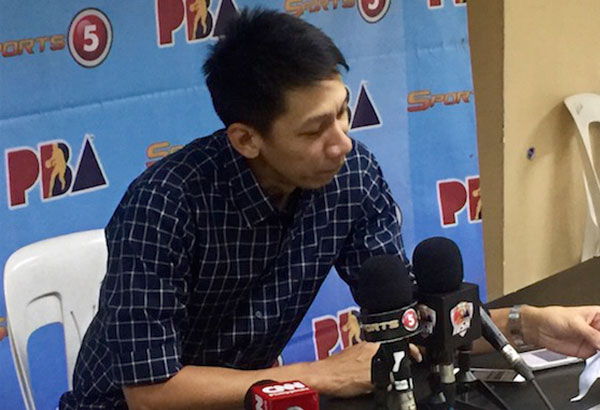 TNT head coach Nash Racela with his note shortly after KaTropa secured the last seat to the PBA Commissioner's Cup Finals, Saturday at the Cuneta Astrodome. PBA Media Bureau
Racela cites TNT's priorities in Finals
MANILA, Philippines - TNT coach Nash Racela singled out rebounding, defense against Charles Rhodes and June Mar Fajardo and matching Chris Ross' energy as the KaTropa's priorities in the PBA Commissioner's Cup Finals against San Miguel Beer starting tomorrow at the Smart Araneta Coliseum.
It won't be the first time Racela will be up against San Miguel coach Leo Austria. In the previous conference, TNT and San Miguel faced off in a best-of-seven Philippine Cup semifinal series with the Beermen going the distance to win Game 7, 96-83. That was Racela's first stint as TNT coach and Austria went on to bag his fourth championship in seven conferences with San Miguel.
Since last conference, Racela took in RR Garcia from San Miguel and Anthony Semerad from GlobalPort in two key acquisitions that were critical in TNT's disposal of Barangay Ginebra in the recent semifinals. Garcia averaged 12 points against Ginebra while Semerad started in three of four games, hitting at a 7.0 clip and gaining a reputation as a tough import stopper. Garcia's familiarity with the San Miguel system will be useful to TNT in the Finals. Semerad's twin brother David is a San Miguel reserve. Racela said Garcia and Semerad are "great additions" to the team, "giving us exactly what we need."
Racela said TNT has until 12 noon today to decide whether or not to replace import Joshua Smith, the 6-9 1/2 giant who tore a ligament in his right foot in Game 3 of the Ginebra semifinals. TNT is 7-2 since Smith was enlisted to replace Donte Green. Smith was unstoppable in Game 1 of the Ginebra series with 35 points, 13 rebounds and four assists. He played only 21 minutes in Game 4 but hit 8-of-11 field goals.
On standby in case Smith is declared unfit by doctors to continue playing is 245-pound Mike (Buddy) Myers of the University of Maryland Eastern Shore. Myers, 24, played two years at Angelina College in Texas, sat out two seasons then saw action for Maryland Eastern Shore where he was named to the Division I All-American third team. Myers averaged 15.8 points and 7.2 rebounds in his only season at Maryland Eastern Shore. He suited up in Finland, Estonia, France and Italy before moving to Manila. This past season, Myers averaged 16 points and 8.9 rebounds in 28 games with Siena in the Italian A2 league.
Racela said at presstime, there was no decision yet on which import to play in Game 1. "We'll go with either Joshua or Mike," he said. Racela said if TNT places Smith in the injured list, he may not be reactivated because the former UCLA and Georgetown center wasn't the team's original pick. Under PBA rules, only the original import may be placed in the injured list with the option of being reactivated. TNT's original import was Denzel Bowles although he never got to play a game in the Commissioner's Cup. He was replaced by Lou Amundson before the conference started. PBA director of operations Rickie Santos yesterday confirmed that if Smith is relegated to the injured list, he may not be reactivated as that option is available only for original imports and in TNT's case, that's Bowles.
With Smith playing hurt in Game 4 against Ginebra, Jayson Castro stepped up to compile 38 points, seven rebounds and 11 assists as TNT won, 122-109, to close out the series last Saturday. Before the explosion, Castro averaged only 7.7 points in the tie. "Timing was perfect," said Racela. "We needed Jayson to be more aggressive, knowing our import wasn't 100 percent. We hope he continues to lead us."
TNT alternate governor and former PBA chairman Patrick Gregorio, who made his debut on the KaTropa bench during the Ginebra series, said it will be an exciting Finals. "Joshua is a tough matchup," he said. "What a pity. Tough luck he got injured and he's not 100 percent. We're not yet sure if he'll play. Myers is stocky, slightly smaller than Joshua but quicker. I hope we go all the way."
Gregorio said bringing in Garcia and Semerad was strategic and timely. "We gave up key players, too, Larry (Fonacier) and Matt (Ganuelas-Rosser) but Nash knows best," he said. "It was my first time to sit on the bench starting Game 1 of the Ginebra series. I never tried it before. How did it feel? One word – pressure."