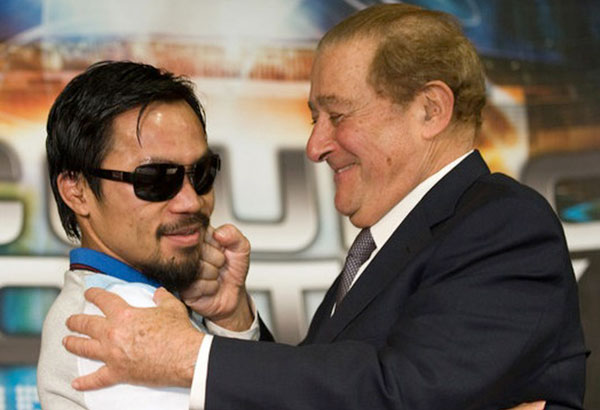 Manny Pacquiao and Bob Arum
Pacquiao's future hinging on outcome of Horn fight
BRISBANE, Australia – Whether Manny Pacquiao will take bigger fights in the future will depend largely on how he performs against Jeff Horn at the Suncorp Stadium here this Sunday.
Top Rank Inc. chief Bob Arum, Pacquiao's longtime promoter, is non-committal on the Filipino icon's future, raring to see first if his prized ward still has what it takes against Horn.
"I've gotta really see what he has left. How good he is," Arum told Filipino scribes at the sidelines of Horn's media workout Monday.
And even Freddie Roach, who claims Pacquiao is in the best shape heading to the Horn fight, can't convince the veteran promoter to think otherwise.
"I had breakfast with Freddie today, and Freddie he says that this is the best Manny he has seen in over a year. But a lot of times Freddie says things that aren't necessarily objective. He believes them, he's honest but he sees things subjectively," he added.
That's why Arum wants to see for himself whether Pacquiao can still compete at the top level.
Pacquiao's camp is looking at no less than a knockout victory against Horn in a bid to reinvigorate fan interest in the Filipino star's boxing career.
Asked if he sees Pacquiao fighting younger, more dangerous foes like featherweight titlist Vasyl Lomachenko and rising star Terence Crawford somewhere down the road, Arum is clueless at this point.
"I don't really know because I don't know what type of Manny we're looking at," he continued.
"But it's gotta be a Pacquiao who is as fast and as powerful as we have always known. If he isn't, the kid (Horn) could beat him, or really make him struggle. We'll have to see."